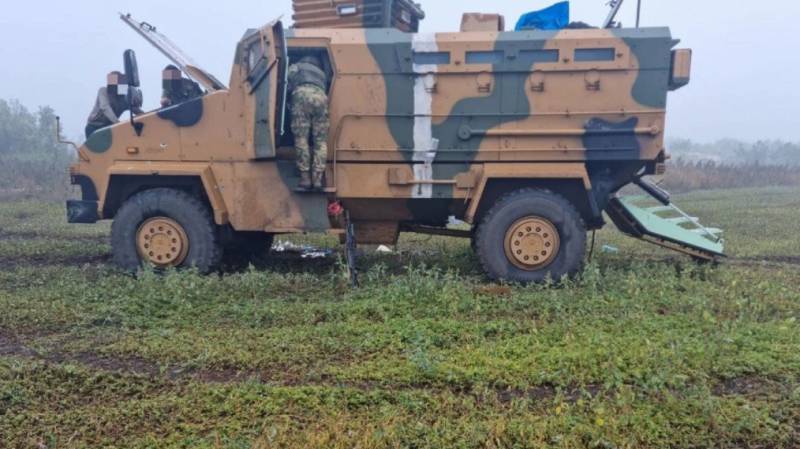 Details continue to come about attempts by Ukrainian troops to launch an offensive in the Kherson direction again. Recall that there were three such attempts in the last two weeks alone. All of them were repulsed by Russian troops. In a number of cases, the RF Armed Forces carried out counterattack actions. As a result of one of the operations, as already reported by Voyennoye Obozreniye, the airborne troops, having secretly advanced in the area of ​​​​the settlement of Dudchany, were able to surround the units of the 59th separate motorized infantry brigade of the enemy. Prisoners were taken, and right in the trenches that the Ukrainian military tried to equip near Dudchany (right bank of the Dnieper).
Noteworthy is the information that in the course of three attempts to attack in the north-east of the Kherson region, the enemy used the most diverse range of foreign military equipment. If we talk about heavy equipment, then this is over a dozen different items.
Among other things - Turkish Kirpi armored personnel carriers, British Saxon, Dutch YPR-765, Polish AHS Krab self-propelled howitzers, Australian Bushmaster armored vehicles, at least one American International MaxxPro armored vehicle. Also used were the German self-propelled guns PzH-2000, NATO-style anti-aircraft guns, British and Japanese-made pickups equipped with American machine guns,
Tanks
T-72 of Polish construction with NATO "onboard stuffing".
This is a real kaleidoscope of technology, which was also involved in an attempt to break through in the direction of Berislav. At the same time, one cannot say that this motley and multi-tasking technique acted separately. It is quite obvious that the enemy has at least a good connection between units, including those equipped with equipment released at different times in different countries. This is another reason to think about the fact that an important aspect of the advantage over the Armed Forces of Ukraine can and should be the work to disrupt the coordination of the actions of units on the battlefield and in front-line territories.