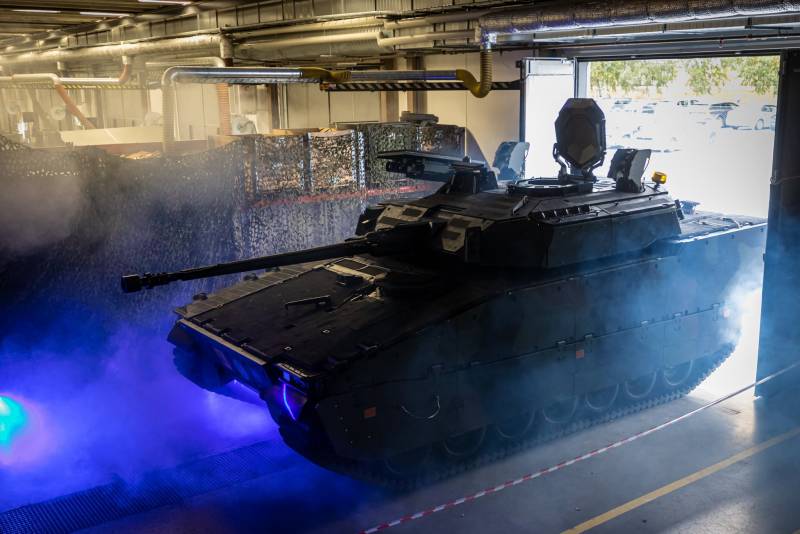 The Ministry of Defense of the Netherlands received the first CV90 infantry fighting vehicle, which was upgraded under a contract concluded with BAE Systems in January last year. This was reported in the message of the Dutch military department.
At the beginning of 2021, the Dutch Ministry of Defense signed a contract with BAE Systems to upgrade 122 CV9035NL Mk III infantry fighting vehicles that have reached "mid-life". The work was planned to be carried out in Sweden at the Hägglund enterprise, which is the developer of this BMP.
On September 26, the Swedes presented the first modernized CV9035NL Mk III infantry fighting vehicle. The updated BMP received a new turret with enhanced protection, a new fire control system, an Israeli Rafael Spike-LR ATGM, and an Elbit Systems Iron Fist active protection system (KAZ). This is the main, some more minor improvements are possible.
Now the military of the Netherlands, together with the Swedes from Hägglund, will carry out all the necessary testing and verification of the new BMP, only after that the process of upgrading the rest of the vehicles will be launched. The testing process is quite long, so work on the remaining infantry fighting vehicles is scheduled to begin at the end of next year and be completed at the end of 2026.
A total of 122 CV9035NL Mk IIIs will undergo a major upgrade, the so-called mid-life upgrade (MLU)
- said in a statement the Ministry of Defense of the Netherlands.
The upgraded infantry fighting vehicles will have to be in service with the Dutch army until 2039 inclusive, after which a decision will be made on their future fate.