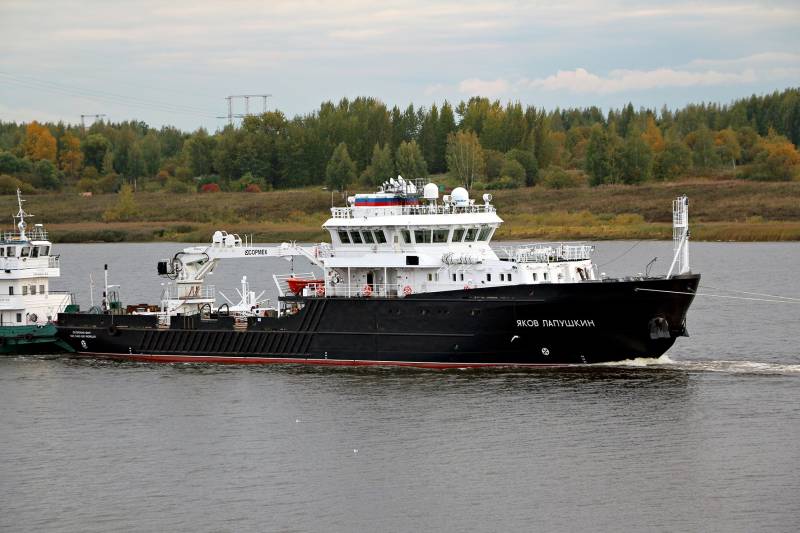 The small hydrographic vessel "Yakov Lapushkin" of project 19910, built at the Rybinsk shipbuilding plant "Vympel", went to the Baltic Sea for sea and state trials. This was reported by the press service of the enterprise.
The ship left the shipyard and was towed along the inland waterways of Russia to Kronstadt to the delivery base of the Baltic
fleet
, where it will pass all the required tests, after which it will become part of the Baltic Fleet. So far, no dates for passing the tests have been announced, but it was previously reported that the delivery of the vessel to the customer is scheduled for this year.
"Yakov Lapushkin" is the fifth project 19910 ship being built in the interests of the Russian Navy. The laying took place on January 22, 2019, launching on May 22, 2022, followed by completion afloat. The vessel was built according to an improved new ice class and received modern technical equipment. They named it in honor of Yakov Yakovlevich Lapushkin, a Soviet naval leader, navigator, military hydrograph, rear admiral, who devoted his whole life to the development and strengthening of the hydrographic service of the Navy.
Hydrographic vessels of the 19910 project are intended for servicing navigation aids, delivering cargo to an unequipped coast, and also for performing research using a multibeam echo sounder. They can work not only in the conditions of the deep sea, but also in shallow water.
Main characteristics: Displacement 1200 tons. The length is 59 meters, the maximum width is 11,4 meters, the height of the side is over 5 meters, the draft is 3,18 meters. Travel speed 12,5 knots. The cruising range is about 3500 miles. Autonomy of navigation over 25 days. Crew of 22 people.