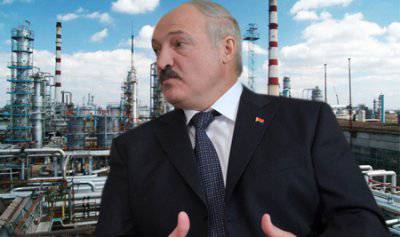 The other day from Minsk came the news that the Belarusian president is offering Russia to take an economic integration step towards Belarus. The point is that Alexander Lukashenko is ready for the privatization of Belarusian oil refineries by Russian companies, but on the condition that Russia allows Belarusian companies to produce hydrocarbons in their (Russian) territory. After such a proposal, the experts began one after another to put forward ideas about why Lukashenko needed to talk about such an exchange. After all, today everything on the energy market of the Republic of Belarus looks extremely good: Russia supplies gas to its neighbors at almost domestic prices - around $ 165 per thousand cubic meters of blue fuel; there are no problems with oil either; moreover, its price is several times lower than the world price. If we talk about the average cost of Russian oil for Belarus in 2012 year, then this price was approximately 450 $ per ton of raw materials. In terms of already familiar barrels, the price is around 60 $. If we consider that the price of oil on the world market corresponds to US dollars 110-114, then "Belarusian" oil costs almost 2 times less than the world nominal.
But if everything is so good, then why would Alexander G. need these conversations about the privatization of oil refineries in Belarus, and also the privatization of these enterprises by Russian companies? Disregarding the unexpected manifestations of brotherly love for the Russian Federation, which sometimes unexpectedly fills the Belarusian leader, we can say that Lukashenko decided to play an interesting game that definitely has not only an economic, but also a political background.
The proposal of Alexander Lukashenko has a kind of undercurrent. Outwardly, everything looks like the president's attempts to further strengthen allied ties with Russia, but these very undercurrents in a certain way wash the so-called Western partners. The situation may well be described as follows: Alexander Lukashenko uses the magic word for the West "privatization". If we take into account that the European Union decided to extend the sanctions against Belarus during the week, linking these sanctions, as usual, with observance-non-observance of human rights, the message of Lukashenko is understandable. The word "privatization" is obviously capable of attracting the attention of Western experts, who, apparently, will have to have a slightly different look at the state of affairs in the Republic of Belarus. They say that if that same iron Lukashenko decided to soften economically and actually calls for foreign (Russian) business in the holy of holies - the oil refining sector - then we can expect that the political position of Alexander Grigorievich can also be softened.
But the Belarusian president is grated, and therefore privatization in his understanding is not quite privatization on economic terms. Much more banal politics here ...
On the one hand, everything seems to be extremely transparent: Lukashenko transfers a controlling stake in Belarusian refineries (there are two in the republic - the Mozyr Oil Refinery and the Naftan enterprise located in the Vitebsk region), and in return asks for its specialists to produce oil and gas in Russia. It would seem that there is nothing wrong. But on the other hand, do Russian businesses need controlling stakes in Belarusian oil refineries if many oil-producing companies in Russia have managed to open modern refineries in the European Union: Bulgaria, Romania, Holland. Yes, and in Russia, modern refineries a lot. If we talk about refining oil in Belarus exclusively for domestic consumption, then such a project would be clearly unprofitable. Well, to consider the situation with when oil is pumped to Belarus, it is processed here and then returned to Russia, simply incorrectly, because the economic bonuses from such a "distillation" will be clearly unimpressive.
In all likelihood, the Belarusian president is going to use the opportunity not only to hint to the European Union indirectly that he (Lukashenko), in principle, can afford to give up state influence on certain economic sectors, but also to guarantee the stability of energy supplies from Russia to Belarus. Indeed, as is well known, the Belarusian-Russian state (namely state), although it seems eternal and indestructible, but it painfully depends on the moods of both Lukashenka himself and the Russian political elite. And then there is an increase in the volume of deliveries of Russian raw materials through the underwater pipe of the Nord Stream makes the authorities of the Republic of Belarus think ... After all, any demarche of the Belarusian authorities may result in a complete overlap of the valve by Russia or price spikes, as has happened more than once ... Well, this is a political friendship between our states: as in a real Russian family, then hugs and kisses, then things at the door, and the door to the castle ...
And here, at hand, there will be, as it were, privatized plants in the territory of Belarus, to which the fuel for processing will be supplied by Belarusian oil industry workers. Hmm ... Belarusian oil industry ... It sounds strange ...
Assuming that Russia accepts the offer of the Belarusian leader and invites Belarusian specialists to produce oil in exchange for receiving a controlling stake in the refineries in Belarus, one can fully expect radical changes. At the same time, possible changes appear rather negative. Why? Because we all know perfectly well that the very mood of that very Alexander Lukashenko may suddenly change, as has happened more than once, and when the mood changes, he may well cancel all privatization deals with Russian companies, calling them anti-people and predatory. That is why the phrase "as if privatized" was used above. We don't thank God for privatization, but here we are in relatively similar positions with our brothers Belarusians.
However, Alexander Lukashenko considers all such speculations groundless, because for some time the Belarusians have been actively cooperating with Venezuelan oil companies. They say Venezuelans trust us, and you ... But, really, Venezuelans did not give complete freedom to Belarusian specialists, but decided to leave the partnership in a joint venture. So - for every fireman ...
In general, the proposal of the Belarusian president is a thing that needs to be seriously considered. However, if someone loses from such a deal, it is the Russian oil oligarchy, which for obvious reasons does not want to share an oil needle with its neighbors. It turns out that Lukashenko decided to probe the Russian oil owners on variations of the Russian-Belarusian friendship. In such a situation, the spit can be found on a stone, because both one and the other - people are utterly rested ...