The situation with the "strike on the shopping center" in Kremenchug resembles a provocation in Kyiv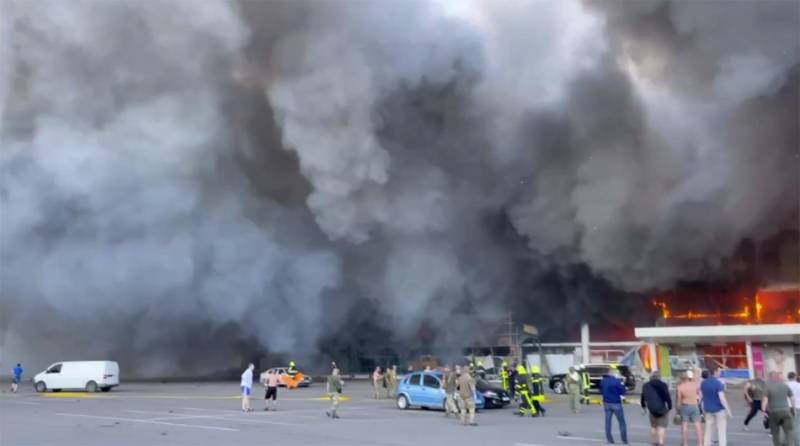 The Ukrainian side announces another missile strikes on targets in the country. In particular, information is confirmed that a strike was made on an object in the city of Kremenchug. According to the latest information, this facility was used as an enterprise for the repair of military equipment.
We are talking about a factory of road machines. This was reported by Dmitry Lunin, head of the Poltava regional administration. According to him, the plant was hit by a missile attack. No details have been provided at this time.
Against this background, footage from a large shopping center in Kremenchug appeared. He is on fire. At the same time, the head of the Kyiv regime, Zelensky, announced that "Russia launched a missile attack on a shopping center where there were more than a thousand civilians."
Zelensky:
The number of victims is unimaginable.
If the information about the strike on the shopping center in Kremenchug is confirmed, then such a strike is very similar to a provocation by the Ukrainian side.
Recall that some time ago, the Armed Forces of Ukraine attacked the forecourt of Kramatorsk - moreover, after the Ukrainian side itself announced an organized evacuation. Then the provocation was revealed because of the frame with a fragment of the Ukrainian rocket of the Tochka-U complex. The number unambiguously confirmed the blow inflicted precisely by the Ukrainian side.
It can be assumed that the Ukrainian provocation in Kremenchug is connected with the NATO summit in order to again draw the attention of the Western public to the Ukrainian issue.