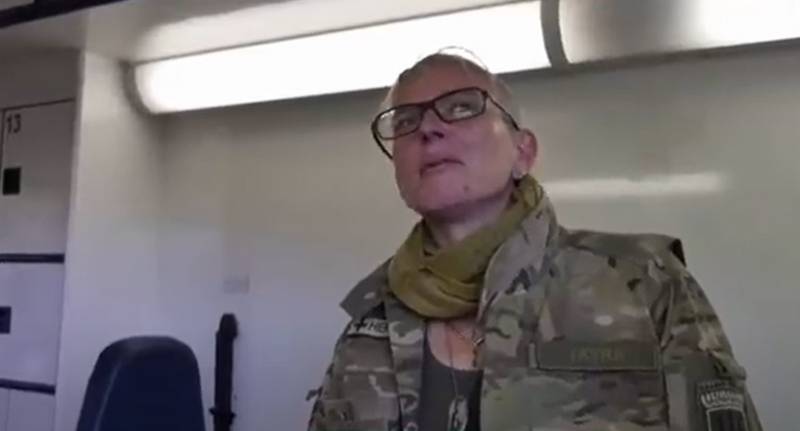 Since yesterday, conflicting information began to come about the exchange of the odious Ukrainian nationalist Yulia Paevskaya, known under the call sign Taira. Recall that she was captured by the RF Armed Forces in Mariupol, where, according to her version, she served as a field medical officer, according to another version, she was a sniper in one of the nationalist armed groups.
In the first few days after her capture, the following information was voiced: she tried to get out of the city, posing as accompanying two children. At the same time, it was stated that Tyra herself killed their parents.
Officially, the investigating authorities of Russia and the DPR did not comment on this information.
At the same time, footage was published with Taira's "reflection" when she was shown the massacre of Ukrainian militants over Russian prisoners. Paevskaya, realizing that she was being filmed, stated that "it is impossible to do this with prisoners," apparently trying on the situation for herself, who was in captivity.
The day before, information began to come that Tyra had been exchanged. And after that, a leapfrog of messages from Russian military correspondents began, contradicting each other. Irina Kuksenkova a few hours ago in
TG channel
wrote that
news
about the exchange of Paevskaya - fake.
Kuksenkova:
As she sat, so she sits.
And a few minutes ago, military commander Andrey Rudenko made a note that the exchange did take place.
From his publication in
TG
:
Bombarded with questions about this scum. Someone says her exchange is fake. I will answer. Tyra was exchanged. Exchanged for very serious of our guys. Why there is no information about this from our side, I do not know. Perhaps there is a reason for that. Will the bastards from Azov be sent for exchange - they won't!!!
At the same time, the military commissar refers to DPR Deputy Information Minister Daniil Bezsonov.
In such a mess of mutually exclusive reports, it is difficult to accept as a "100% guarantee" statements that no other militants of the national battalions will be exchanged.
Earlier, the President of Ukraine Zelensky announced the exchange of Paevskaya.