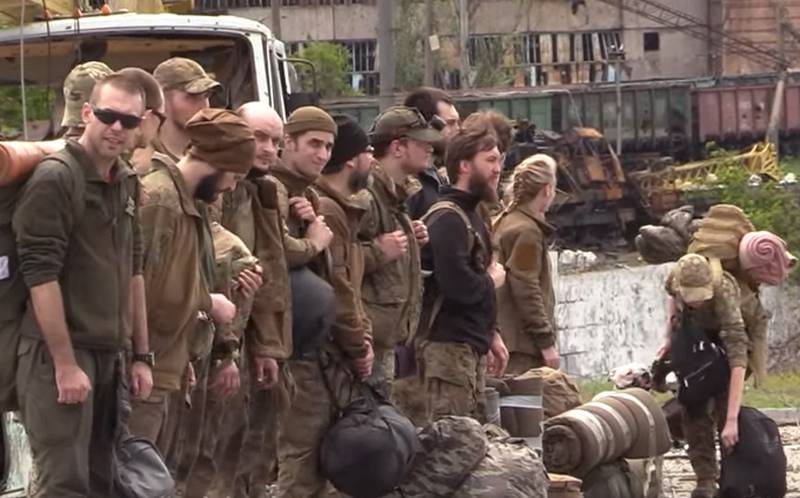 Ukrainian officials continue to make statements that raise more and more questions among Ukrainians themselves. One of the most painful questions for the Kyiv regime is related to what happened at the Mariupol Azovstal enterprise - how did it happen that 2,5 thousand representatives of armed groups, including Azov (*an extremist organization banned in the Russian Federation) ended up in captivity, in the pre-trial detention center of the DPR?
The fate of those who surrendered at the Azovstal plant was asked by the head of the Ministry of Internal Affairs of Ukraine, Denis Monastyrsky. The question was asked in one of
news
TV broadcasts on Ukrainian TV. At the same time, for some reason, the presenter was interested in the fate of the Azov militants*.
Monastyrsky, answering this question, stated that "Ukrainian intelligence is constantly in touch with the Azov servicemen." The head of the Ukrainian Ministry of Internal Affairs, never once using the word "prisoners":
The Main Directorate of Intelligence maintains contact with our fighters. Through the power steering, we find out how they are kept there, what kind of food, everything else.
According to Monastyrsky, "all the fighters for us are already in Kyiv - together with us" - as if in the heart of every Ukrainian. An original attempt to justify the capitulation of the Mariupol garrison... And then the head of the Ukrainian Ministry of Internal Affairs, obviously trying to avoid new acute issues, decided
stories
great Ukraine, every day of which will be inscribed in textbooks…" and so on and so forth.
As can be seen even from this single interview, the history of Ukraine by its officials continues to be written on the basis of outright lies and distortion of facts. The very statement that "communication is maintained by intelligence" sounds, to put it mildly, strange. The Ukrainian side is making frankly ridiculous attempts to show that the Azov militants * are not in captivity, but continue to participate "in a special operation of the Main Intelligence Directorate of the Ministry of Defense of Ukraine." The whole problem for Monastyrsky and other Ukrainian government officials is that these pseudo-patriotic fables in Ukraine itself are less and less believed every day.