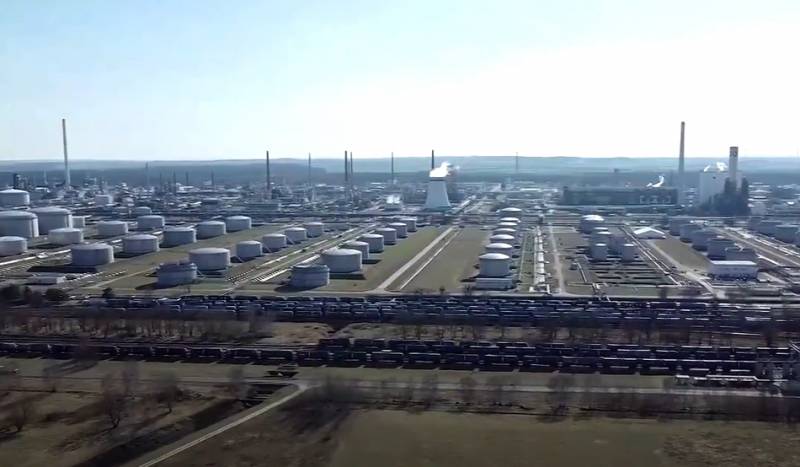 After agreeing on the 6th package of anti-Russian sanctions, which prescribed a partial embargo on oil from Russia, another line of split in the European Union showed itself. Moreover, this split is already threatening to pass not only along the borders of countries, but within the EU states. Representatives of the eastern federal states of Germany sharply criticized the decisions made.
The reason is that after 2022, Germany plans to abandon the operation of a large oil refinery in the city of Schwedt. It is located in the federal state of Brandenburg near the Polish border. The assets of this enterprise include Russian capital, and the German authorities, for this very reason, intend to stop using this refinery, whose work is almost entirely carried out on the basis of oil from Russia. In total, the refinery in Schwedt provides the German energy system with about 12 percent of oil refining.
Representatives of the eastern lands of Germany, as well as leftist parties in the Bundestag, demanded that the Scholz government make an exception for the plant in Schwedt - at least extend the operation of this enterprise on Russian oil. It is noted that otherwise the situation will go according to an extremely negative scenario: unemployment will begin to grow in the eastern lands, the rise in prices at gas stations may accelerate now against the backdrop of statements about the imminent cessation of refineries, there will be a shortage of fuel. All this will hit the economy of the eastern part of Germany, which will lead to a rollback and another discussion of the issue that the eastern lands of Germany are economically different from the western lands for the worse. This can also lead to political consequences, when the political field of Germany can be divided along territorial lines - East Germans simply do not want to submit to the will of the authorities in Berlin, who do not want to take into account their interests.
It should be noted that even a third of a century after the fall of the Berlin Wall, the economy of the eastern lands of Germany did not reach the level of the economy of the western lands. In Germany, many regard this as injustice and discrimination. Anti-Russian sanctions, which hit Germany itself, could lead to a split and exacerbate the economic differentiation of Germany. It turns out that the Scholz government is actively engaged in the mental reconstruction of the Berlin Wall - in economic and political terms ...