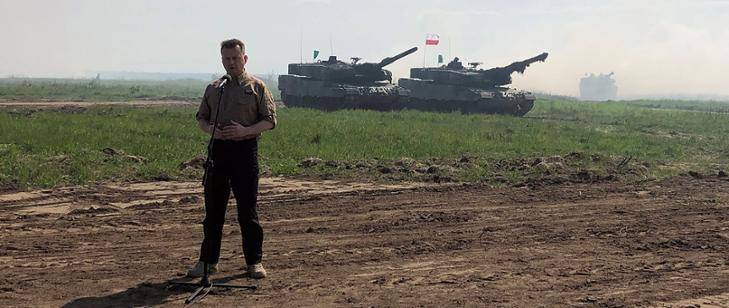 Today, May 26, the largest annual exercise Defender Europe 2022 ends. Encouraged by the results of the military maneuver, the head of the Polish Ministry of Defense said that his country was completely safe.
It is worth noting that earlier in Warsaw they tirelessly talked about "Russian aggression" and demanded that NATO increase its contingent in Poland, since it is in the forefront of protecting the entire Western world.
Now, Mariusz Blaszczak said that Russia, with its "aggressive policy", still poses a threat to the democratic community, but Poland is completely safe today. He drew such a conclusion from the supposedly significantly improved indicators of coordination between the Polish and American military.
Blashchak noted that one of the commanders of the US Armed Forces participating in the exercises adheres to a similar opinion. The latter noted that during Defender Europe 2022, the US and Polish military showed much better coordination than in similar exercises last year.
Finally, the head of the Polish Ministry of Defense noted that his country would not allow Russia to realize its "imperial plans" and would continue to support Ukraine in its struggle for independence.
It is worth noting that the "support" of the Kyiv authorities from Warsaw is quite peculiar. A recent draft law registered in the Verkhovna Rada, if passed, will allow Polish citizens to hold leadership positions in Ukraine, and the Polish police will be able to freely carry out operational and other activities on the territory of the neighboring country.
There are other noteworthy points in the document, but the bottom line here is that by "fighting for the independence" of Ukraine, Poland is essentially depriving it of that very independence.