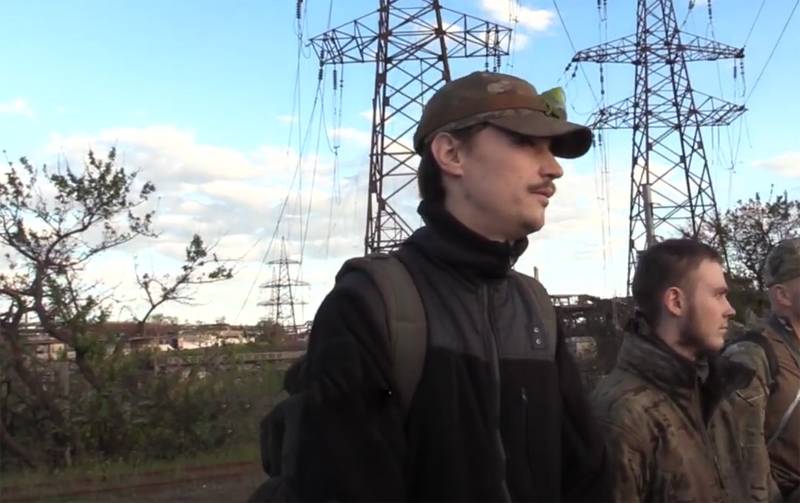 The Ministry of Internal Affairs of the DPR continues to publish a video about Ukrainian servicemen and militants who came out and surrendered at the Azovstal plant in Mariupol. It is noteworthy that some of the capitulated, apparently, do not yet fully understand what happened to them, and seriously believe that they "evacuated".
One of the prisoners behaves quite boldly, answering questions during the preliminary conversation. This is a serviceman of the 25th separate airborne assault brigade of the Armed Forces of Ukraine, who said that he was a "signaller".
A representative of the republic's law enforcement agencies asks him how he feels about what happened to Volnovakha, where the representative of the Armed Forces of Ukraine is from and where his relatives are. When answering, he says that "it does not apply in any way ... since this is a war."
Question:
Have a girlfriend? Where is?
Answer:
Volnovakha region.
Further, he is invited to inform his girlfriend that he is alive and well, but he does not, stating that he himself will call and tell everything.
Representative of the Ministry of Internal Affairs of the DPR:
Call, say? Well try...
Attempts of impudence are explained by the fact that those who came out of the basements of the plant, apparently, seriously believe that they are not in captivity, and that they will now be handed over to the Ukrainian side. One of those who came out, answering the question why he needed two backpacks of personal belongings, seriously stated: "So I'll go home." He was gently hinted that he could go home, for example, in 10-15 years.
Exit of a group of prisoners from Azovstal the day before:
Earlier, Denis Pushilin, the head of the DPR, said that a tribunal for the militants who were at the Azovstal plant in Mariupol was inevitable.