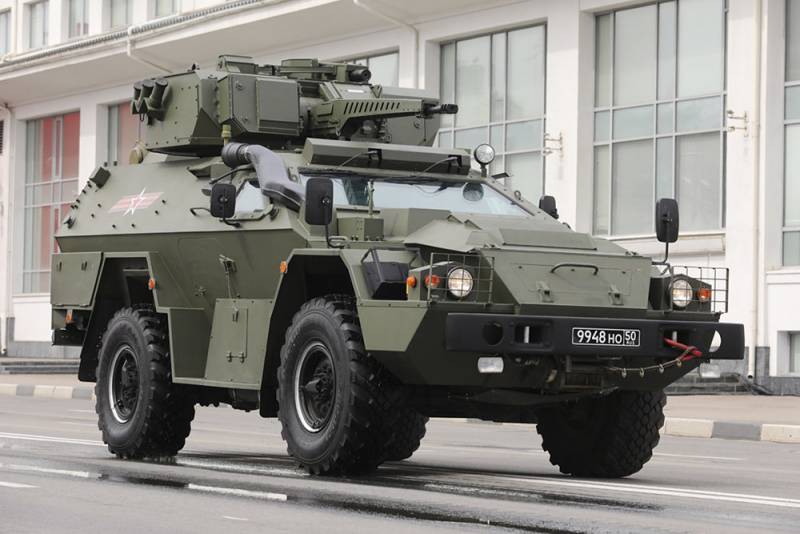 BM-30-D "Spitsa" on the armored car "Shot" 2021
Mass production of a new uninhabited combat module BM-30-D Spitsa (32V01) for armored vehicles has started in Russia. The development of BM and its assembly is carried out by the Central Research Institute "Burevestnik" (Nizhny Novgorod).
A video of the production of these combat modules at the facilities of Burevestnik appeared on the Web. It is reported that the module is intended for installation on KamAZ-43269 Shot (4x4) armored vehicles for escort and protection of special cargoes, as well as in lightweight form for K4386 Typhoon-VDV (4x4) armored vehicles. The installation of "Spokes" on other Russian armored vehicles is not ruled out.
The module is equipped with a 30 mm 2A42 automatic cannon, a 7,62 mm PKTM (6P7K) machine gun and an AG-30 automatic grenade launcher. A modern sight with television and thermal imaging channels and a laser rangefinder was installed. A lighter version of the module for "Typhoon-VDV" is produced without an automatic grenade launcher.
Armored vehicles KamAZ-30 Shot equipped with the BM-43269-D Spitz combat module were demonstrated at the Victory parades in Nizhny Novgorod in 2021 and 2022.
At the moment, the number of ordered combat modules and other details of the state order are unknown, the Ministry of Defense did not give official information regarding the BM-30-D "Spoke". So far it's all just guesswork. It is worth noting that the military special operation being carried out in Ukraine makes it possible to test a new uninhabited combat module in combat conditions. It is possible that armored vehicles equipped with "Spice" are already participating in hostilities, but without wide publicity.