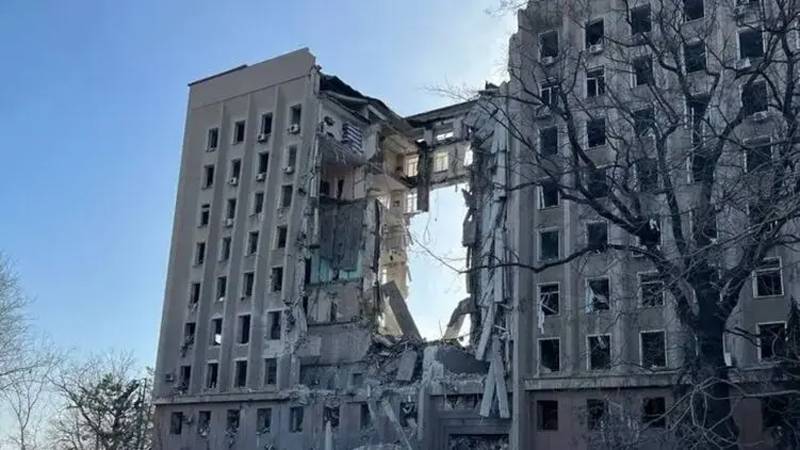 This morning in the administrative center of the Nikolaev region of Ukraine, the structures of a nine-story building partially collapsed. The cause of the collapse was a rocket hit.
As the governor of the Nikolaev area Vitaly Kim reported, the building of regional administration got under blow. He stated that we are talking about a Russian missile.
According to the State Emergency Service of Ukraine, the blow to the regional administration was struck at about 08:45. The missile hit the center of a nine-story administrative building. As a result, the floors in the central section of the building collapsed. Rescue work is underway at the moment. Nine people are reported to have been rescued from the rubble.
The State Emergency Service did not specify which building in question. The fact that it was the building of the Nikolaev regional administration became known from the head of the region Vitaly Kim. To the ensuing question about where the governor himself was at the time of the strike, Kim gave a preliminary answer:
Overslept and therefore was not at work
At the same time, the Nikolaev governor was more worried, as it turns out about the aikos that were in his office.
According to Kim, Russia "understood that Nikolaev could not be taken, so it dealt a blow to the administration."
Earlier, the head of the Nikolaev region himself stated that military planning was carried out in the administration building, including planning operations for shelling Russian troops. At the same time, Kim repeatedly repeated that he was participating in the discussion of these operations personally.
The Ministry of Defense of the Russian Federation at the moment has not commented on the data on the attack on the Nikolaev OVA.
In this regard, experts in Ukraine itself suggest that Kim could well have known in advance about a possible strike, and therefore hid elsewhere.