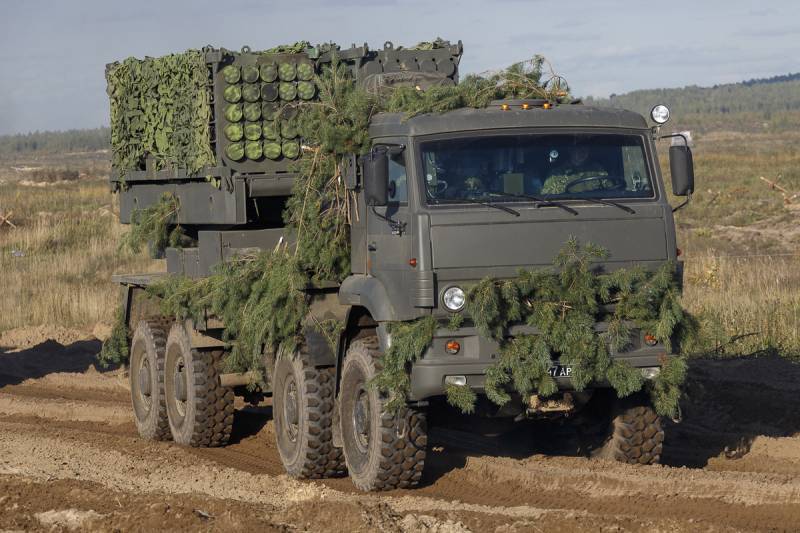 The Russian army, which is conducting a special operation to demilitarize and denazify Ukraine, uses both military equipment that has long been in service, and the latest systems, including remote mining. A video of the application of the "Agriculture" remote mining engineering system has appeared on the Web.
Reportedly, the work of ISMD "Agriculture" was filmed near Kharkov. The video shows the moment of remote installation of minefields. The work of the "Agriculture" installation resembles the work of the "Grad" MLRS, only instead of the warhead, the ammunition is carried by mines, with which they "sow" the selected territory. After installation, the minefield is applied to the electronic map, if necessary, the mines can be remotely deactivated.
The remote mining engineering system (ISDM) "Agriculture" uses 122 mm caliber ammunition. The complex includes a combat vehicle on an eight-wheeled armored chassis "KamAZ", a transport-loading vehicle and transport-launch containers with engineering ammunition. Each combat vehicle is equipped with two units for 25 missiles each, it is equipped with a satellite navigation system, a computer and a weather station. This allows you to make adjustments and take into account the influence of weather on the flight of missiles.
The system allows you to quickly create minefields in especially dangerous areas at a distance of 5 to 15 km quickly and according to a given pattern. The system lays a minefield of any complexity, including those with ready-made passages for its troops.