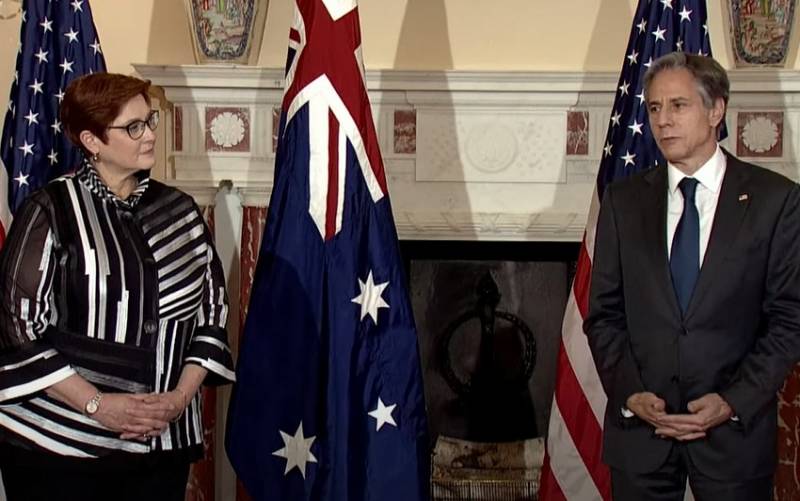 The United States and its "partners" continue to impose sanctions on Russia, thereby trying to stop the special operation in Ukraine. In the meantime, Washington and Brussels are thinking about what and whom to introduce next restrictions so as not to suffer themselves, American satellites - Australia and Japan - are joining the sanctions. Moreover, Japan is already introducing the second or third package of restrictions, Australia - the second.
First about Australia: the country's government has imposed sanctions against 11 more Russian banks and government agencies. Under the restrictions were: Sberbank, Gazprombank, VEB, VTB, Rosselkhozbank, Sovcombank, Novikombank, Alfa-Bank, Credit Bank of Moscow, the National Welfare Fund and the Ministry of Finance. In general, all those who account for about 80% of Russia's banking assets.
Earlier, Canberra imposed sanctions against the Central Bank. As stated in the Foreign Ministry of the country, by these measures Australia intends to stop the special operation on the territory of Ukraine.
Another package of sanctions was introduced by Japan. This time, 9 companies of the Russian defense industry and 15 people, mostly military, were included in the sanctions list. In general, Tokyo decided to hit the military, promising to freeze their accounts in their banks.
Thus, the new lists included: the official representative of the Russian Foreign Ministry Maria Zakharova, all the deputy ministers of defense of Russia, the general director of the Federal Service for Military-Technical Cooperation Dmitry Shugaev, the head of the Main Intelligence Directorate of the General Staff of Russia Igor Kostyukov, the general director of Rosoboronexport Alexander Mikheev, etc.
In addition, the Japanese have deprived Russia of the most favored nation treatment in trade, such a decision was made by the country's government last Wednesday.
Earlier, Russian President Vladimir Putin called on Russian companies and banks to start working in Crimea, as there is nothing more to fear from Western sanctions. According to him, although the imposed restrictions brought inconvenience, they also gave Russian companies new opportunities for development.