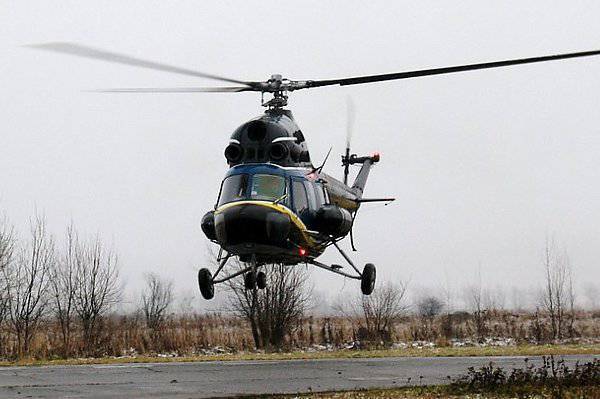 A demonstration flight of a prototype Mi-2M helicopter with new engines took place at the flight test station of Rostvertol, part of the holding company Helicopters of Russia, with reports of Our Time.
Piloted car honored test pilot Valery Kalashnikov of Russia. Along with him on board was also a leading flight test engineer Airat Khusnutdinov.
Note that the main direction of upgrading the Mi-2 to the Mi-2M version was to replace the obsolete GTD-350 engines with modern, more powerful and cost-effective AI-450M production of the Ukrainian company Motor Sich.
"We are pleased with the cooperation of our company with the Russian plant Rostvertol." Thanks to joint actions and modernization, the Mi-2 helicopter received a "new heart" and a "second life", said Igor Kravchenko, the general designer of the Ukrainian state-owned enterprise Ivchenko-Progress, who was watching the Mi-2М demonstration flight. I think all those who gathered on the airfield agreed with these words.
The helicopter, rising into the sky, demonstrated aerobatics, then, after making a few laps, to the applause of a strict commission, it gently sank to the ground.
General Director of Rostvertol OJSC Boris Slusar said: "Mi-2 is a classic of helicopter building. It is actively exploited both in Russia and abroad. "Rostvertol" plans to upgrade this type of helicopters simultaneously with the overhaul. So we have big plans for the Mi-2M. "