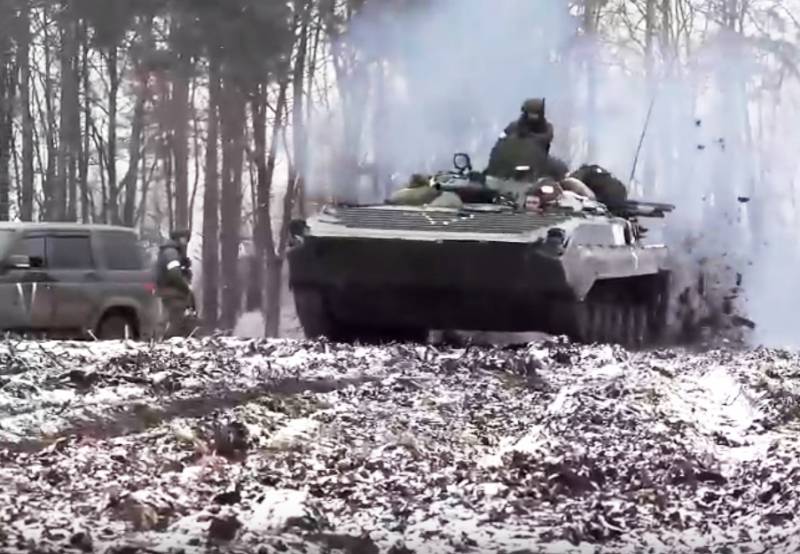 The Russian Ministry of Defense reports the successful advance of troops in the Kiev region. The Russian military is taking control of more and more territories around the Ukrainian capital, including strategically important facilities. These include major transport interchanges, as well as bridges.
Several bridges in the Kyiv region have been taken under guard and defense by the Russian military.
The Ministry of Defense demonstrates the advancement of Russian columns. They include various types of military equipment, including self-propelled artillery mounts, which, at several stages of advancement, have already managed to successfully suppress the activity of Ukrainian armed formations. Also as part of the Russian convoy advancing in the Kiev region
Tanks
, infantry fighting vehicles and other equipment. Efficient supply of troops has been established. Rears are covered.
Ukrainian troops have less and less room for major maneuvers and regrouping. Nationalist units are increasingly operating in separate small groups that are trying to impede the advance of Russian troops.
At the same time, humanitarian corridors operate in several directions from Kyiv for the exit of the civilian population. Moreover, the so-called terbats are doing everything to hide behind civilians, preventing them from leaving the Ukrainian capital. And this despite the fact that the Russian and Ukrainian delegations agreed to create a special communication channel to discuss the activities of humanitarian corridors. This once again indicates that the Ukrainian authorities, whose representatives negotiated in Belovezhya, are actually unable to fulfill their obligations, including due to the lack of at least some influence in the country on the same nationalists.
And an important message from the Ministry of Defense:
Today, from 10 o'clock in the morning, a silence regime has been declared in Volnovakha and Mariupol to provide civilians with the opportunity to go through humanitarian corridors.