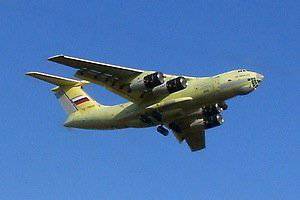 September 22 made the first flight of an Il-76MD-90А transport aircraft made by Aviastar-SP in Ulyanovsk!
The aircraft, which has a serial number 01-02 and received the registration number RA-78650, was transferred to the flight test station 5 in July of this year. After the completion of ground testing of onboard systems, the aircraft proceeded to flight tests.
On September 22, for the first time, the aircraft broke away from the concrete of the Ulyanovsk-Vostochny airfield under the control of the crew as part of the test pilot, Hero of Russia Nikolai Kuimov (commander), honored test pilot of Russia Vladimir Irinarkhov (2-th pilot), Valery Grechko (navigator) Alexei Zhuravlev (flight engineer) and Sergey Orlov (flight operator). The first flight lasted about 40 minutes and passed in normal mode.
After performing several flights in Ulyanovsk, the car will make a flight to Zhukovsky near Moscow to continue the tests.
The upgraded IL-76MD-90А has a number of significant differences from the IL-76MD production aircraft manufactured by TAPOiCH in Uzbekistan.
Thanks to the use of a new wing and a reinforced chassis, the maximum take-off weight was increased from 190 to 210 tons, and the maximum payload from 47 to 60 tons.
Instead of the previously used D-30KP2 engines, new PS-90А-76 produced by Perm Engine Company OJSC were installed on the aircraft. At the same time, due to the greater thrust of the engines, the length of the takeoff run with the maximum take-off weight decreased from 1750 to 1600 meters, and due to the best 12% fuel efficiency, the flight distance with a load of 52 tons increased from 4000 to 5000 kilometers.
Also, the aircraft received a modern flight-navigation complex and a "glass" crew cabin.
The order of the Government of Russia on the development and organization of the release in Ulyanovsk of a modernized IL-76 was adopted on December 20 of the year 2006. After 5 years and 9 months, the first IL-76 transport aircraft, built at a domestic aircraft factory, took off.
Meanwhile, Aviastar-SP continues to build the next two aircraft (No.01-03 and 01-04), their flight is scheduled for the 2013 year.