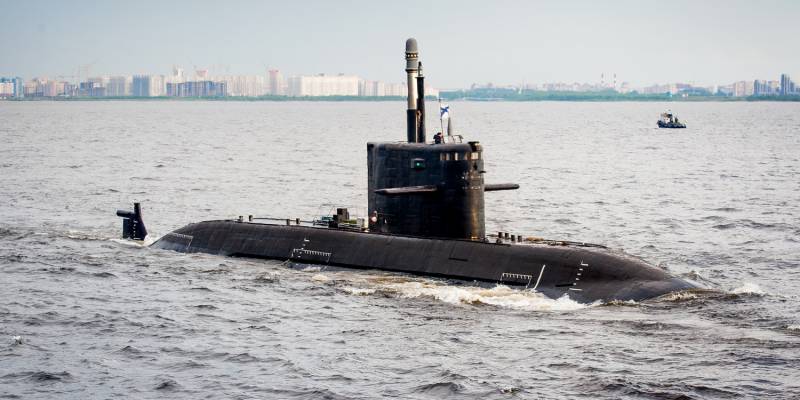 The shipbuilding enterprise "Admiralty Shipyards" has begun preparations for the laying of two diesel-electric submarines of project 677 "Lada" at once. According to the press service of the United Shipbuilding Corporation, the company has begun cutting metal for submarines.
According to the report, the third and fourth submarines of Project 677 will be laid down at the Admiralty Shipyards. No date has been announced yet. The submarines will be laid down under a contract signed back in 2019 as part of the Army-2019 forum. It is noted that both submarines will be built according to the modernized project 677, taking into account the trial operation of the head submarine of the St. Petersburg series.
In 2019, at the Admiralty Shipyards, speaking of a new contract for two Ladas, they announced that they would be built without VNEU and without Zircon missiles and would become part of the Navy in 2025-2027. It is unlikely that anything has changed in these almost three years, there is still no air-independent installation, and the hypersonic Zircon is still preparing to enter service only with surface ships. However, this is the case when I would like to be wrong.
Project 677 diesel-electric submarines belong to the fourth generation of non-nuclear submarines. It is designed to combat enemy submarines and surface ships, destroy its coastal facilities, lay minefields, and transport special forces units and cargo. Submarines "Lada" are armed with "Caliber-PL" complexes and six 533 mm torpedo tubes. Submarines of this project are distinguished by a high degree of automation and low noise level. Their surface displacement is about 1,8 thousand tons, the maximum underwater speed is 21 knots, and the immersion depth is up to 350 meters. Crew size - 35 people.
To date, the Navy has only one Project 677 submarine - the lead Lada, which became part of the Northern
fleet
.