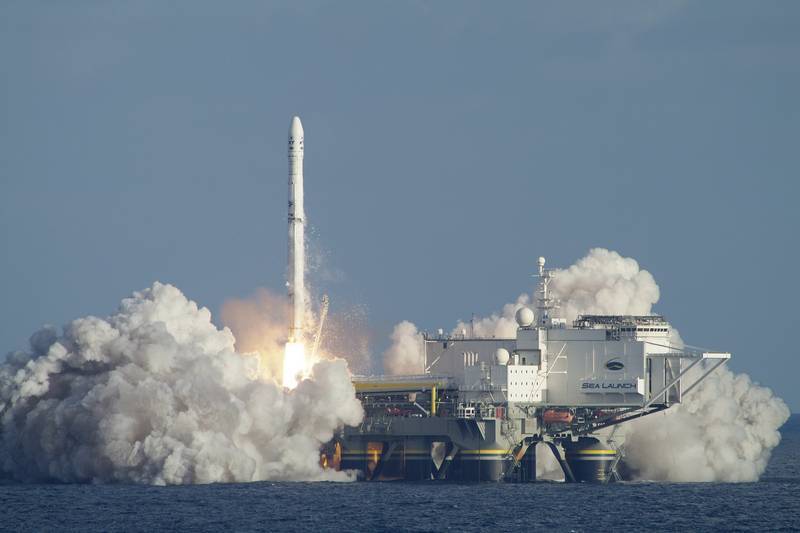 Ukraine decided to become a space power, having not only a ground-based cosmodrome, but also a floating one. Volodymyr Taftai, head of the Space Agency of Ukraine, spoke about plans to build an offshore platform for launching launch vehicles.
Ukraine plans to build an offshore platform for space launches as part of the space program until 2025. It is assumed that this platform, for the construction of which it is planned to allocate 172 million dollars (4,8 billion hryvnias), will allow space launches from the waters of the Indian and Atlantic oceans.
For skeptics who doubt the possibility of building a floating spaceport for such an amount, Taftai explained that the construction will be carried out at Ukrainian enterprises and using Ukrainian technologies, and therefore will be inexpensive.
Within the framework of these five years, all this should be implemented in metal and will work as a complex. (...) this project will be interesting from the point of view of launching satellites into orbit (...) both for space system operators and for (...) customers
- he said.
The details of the construction of a floating spaceport are still unknown, a little more information about the ground-based spaceport, which is being built in Canada. Well, as it is being built, the first stone was laid there at the site of future construction, and that's all for now. Apparently, the Canadians are waiting for Ukraine to present the Cyclone-4 rocket, for which a site will be built, and in Kiev they are waiting for a cosmodrome, since there are no funds to build a rocket without a cosmodrome. And then there's also the need to build a floating spaceport, there's no time for a rocket.
As you can see, Kiev has plenty of plans to join the ranks of space powers, but today the only achievement is the launch of the Sich-2-30 satellite into orbit, although for some reason it does not want to leave the "energy-saving mode."