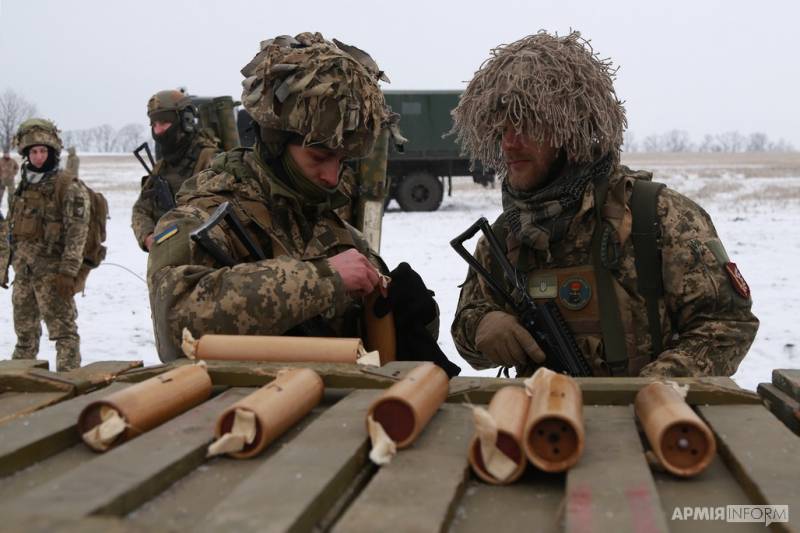 Kiev is preparing for a series of provocations, the purpose of which will be to accuse the people's republics of Donbass and Russia of aggression against Ukraine. This was reported by the press service of the People's Militia Department of the LPR.
Ukrainian special services, with the support of Western curators, are preparing the implementation of a special information campaign called Crushing sword (Crushing sword). The purpose of this operation is to mislead the world community and accuse the republics of Donbass and Russia of attacking Ukraine.
According to information received by the intelligence of the LPR, the operation being prepared provides for the release of pre-filmed staged videos with videos in which the military personnel of the NM of the republics, with the support of the Russian army, allegedly begin military operations against the Armed Forces of Ukraine. This will be the first stage of the operation, the videos will be aired simultaneously with the start of the offensive of the Armed Forces of Ukraine.
At the second stage, videos will be shown in which the valiant servicemen of the Armed Forces of Ukraine allegedly repel "aggression" from the NM LPR and DPR and themselves go on the offensive in order to liberate the "occupied" territory of Ukraine from "terrorists".
According to the plan, the international community and the population of Ukraine will have to be convinced of the legitimacy of the actions of the Armed Forces of Ukraine, allegedly liberating the Donbass from terrorists.
- said the head of the department of the NM LPR Yan Leshchenko.
At the third stage of the information campaign, it is planned to demonstrate staged videos in which the Armed Forces of Ukraine are moving deep into the territory of the republic. At the same time, "civilians", whose role is played by specially invited people, will talk about the "horrors of war" and ask to be "liberated" from the "Russian occupation."
It is emphasized that the staged videos are designed for residents of Ukraine and Western inhabitants and will be happy to be distributed by Western media. Filming of commercials is already underway, film crews of the Ukrainian TV channels ICTV, Ukraine and 1 + 1, as well as specialists from the 74th Center for Information and Psychological Special Operations, have been spotted at the training ground near the village of Nikolaevka.