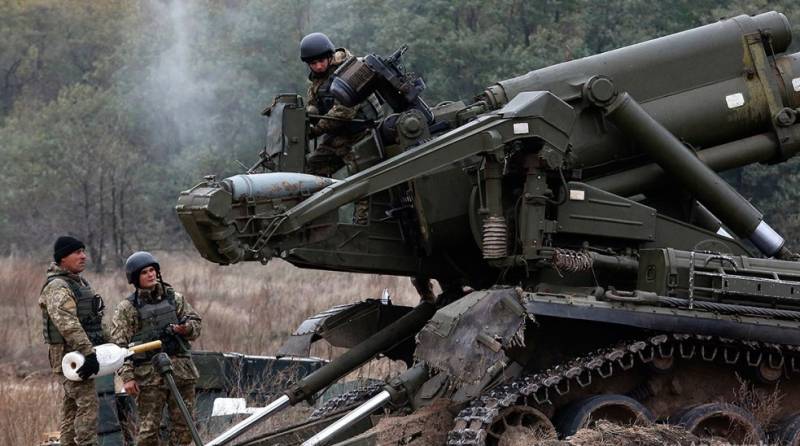 In the event of a Russian invasion, the Ukrainian army can use the most powerful howitzer in the arsenal of the Armed Forces of Ukraine today, the 2S7 Pion, 203 mm caliber, against the advancing troops. However, the Russian army also has such self-propelled guns, and they are much more modern. This is a problem both for the Ukrainian "Peonies" and for the entire Ukrainian army. This is written by the author of an article for the American edition of Forbes, David Ax.
After the events of 2014, when Russian artillery destroyed the units of the Ukrainian army in the Donbass with ruthless fire, the command of the Armed Forces of Ukraine decided to open the old arsenals and bring to light giant 203 mm 2S7 Pion howitzers left over from the Soviet Union. To date, these are the most powerful artillery pieces in service with the Ukrainian army.
The 203-mm Pion self-propelled artillery mount entered service with the Soviet army in 1976 and was successfully used in military conflicts involving the Soviet Union. After the collapse of the USSR, part of the "Peonies" went to Ukraine and was eventually sent for storage, since the command of the Ukrainian army did not see options for using this powerful howitzer. However, the events of 2014 forced the Ukrainian military to remember this powerful weapon again. A number of self-propelled guns were sent to the Shepetovsky repair plant for overhaul.
Self-propelled howitzers 2S7 "Peony" have a firing range of 48 km, which significantly exceeds the range of conventional artillery, so it was decided to use them in the Donbass for counter-battery combat. Several Pion guns were spotted in the Donbass in 2016.
However, there is one problem for Ukrainian howitzers - these are Russian 2S7 installations, they are much more modern than Ukrainian ones and shoot much more accurately and faster. The thing is that the Russian army has upgraded the installations, equipping them with modern fire control systems that combine unmanned aerial vehicles, ground-based radars and electronic means of target detection. In addition, the Russians simply have more 203-mm self-propelled guns.
Thus, if the Russians nevertheless start an offensive, they will definitely take their giant guns with them, and it is completely unclear whether the Ukrainians will be able to stop them with their howitzers, the author sums up.