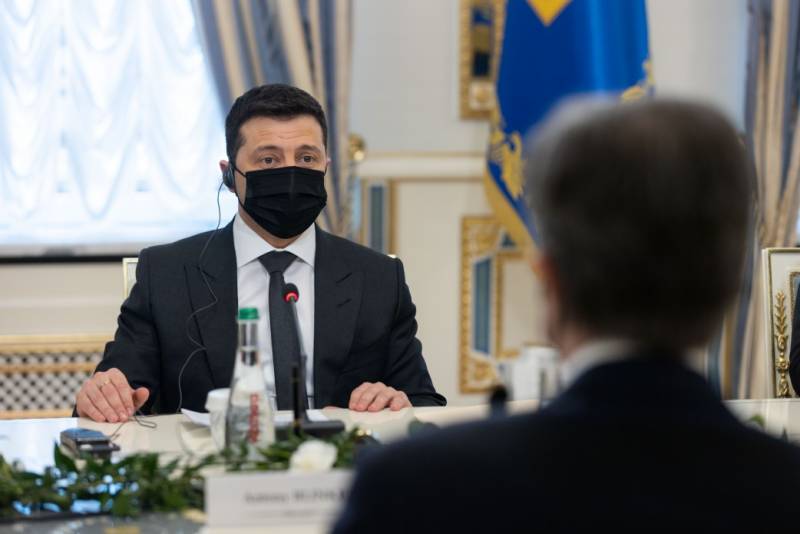 Volodymyr Zelensky, who almost constantly talks about Russia's alleged attack on Ukraine, suddenly reproached the West for saying the same thing. According to the Ukrainian president, he does not rule out "escalation" in relations with Moscow, but at the same time calls on Western partners "not to escalate the situation."
Constant claims that Russia is about to attack are causing additional economic hardship in Ukraine, Zelenskiy said. In particular, there are problems with the arrival of investors in the Ukrainian economy.
Zelensky said that the West "has moved away from the diplomatic tone and is using a little unbalanced rhetoric."
President of Ukraine:
In the West, they constantly talk about the fact that the war will begin soon. This negatively affects our economy.
Ukrainian journalists from the Strana news outlet, commenting on the words of the president, said that Zelensky himself was confused. Either he calls on the West to immediately impose anti-Russian sanctions, since "the offensive will begin soon," then he suddenly says that it is Western countries that are aggravating the situation, which is hindering the development of the Ukrainian economy.
Also in Ukraine, another statement by Zelensky raised questions. The President of Ukraine pointed out that if Russia did attack Ukraine, then the country, judging by the actions of its Western partners, would have to defend itself alone. At the same time, Zelensky, unexpectedly for Ukrainian journalists, said that Ukraine was ready to consider joining "any defensive alliance other than NATO."
Zelensky:
So far, we have not heard proposals to join such alliances. But if they act, if it concerns real assistance at any difficult moment, then we are ready for such accession negotiations. I'm talking about defensive alliances other than NATO.
Now in Ukraine they are wondering what "defense" alliances Zelensky had in mind. AUKUS? CSTO?..