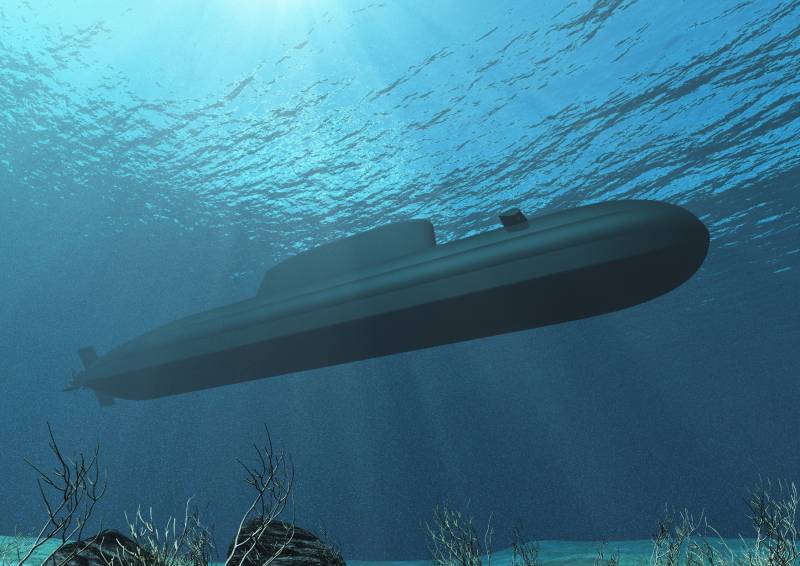 Render image of the new NNS for Israel
Israel ordered the construction of three new non-nuclear submarines in Germany, an agreement was signed with the German shipbuilding association thyssenkrupp Marine Systems (TKMS). This was reported by the press service of the Israeli Ministry of Defense.
Germany's TKMS will build three new non-nuclear submarines for Israel. The agreement, signed on January 20, 2022 in Tel Aviv, provides for the construction of three submarines of the new Dakar project, which in the future will replace the first three Dolphin-class submarines also built in Germany. To date, the Israeli Navy has five submarines of the Dolphin project, and the sixth is still under construction. Despite this, Tel Aviv decided to replace the first three submarines.
The arrival of the first non-nuclear submarine of the new Dakar project is planned as early as 2031. As stated in TKMS, the new submarines will have a different design, designed to meet the requirements of Israel. The contract worth $3,4 billion also provides for the supply of a special simulator for training submariners and the further supply of spare parts for submarines.
The Israel Submarine Force includes six submarines, of which five are in service. The first three large diesel-electric submarines of the Dolphin type were commissioned in 1999-2000, and the command of the Israeli Navy plans to replace them with new Dakar project nuclear submarines.
In addition, the Navy has two modified submarines of the Dolphin 2 project. They differ from the previous version in their large size and the presence of a German-type air-independent power plant based on Siemens-type fuel cells. They joined the
fleet
in 2014-2016. Another Dolphin 2 submarine is due to enter the fleet in 2023. It is worth noting that all submarines were built and are being built in Germany.