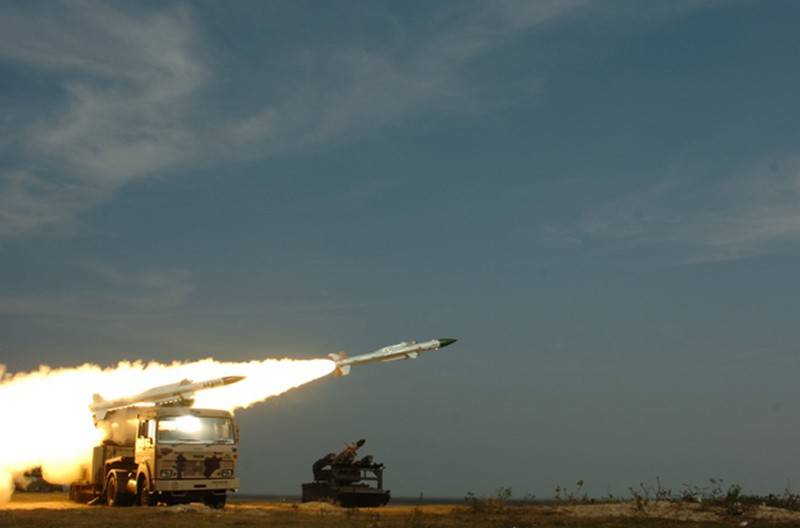 A number of Asian countries have expressed interest in acquiring the Indian-made Akash anti-aircraft missile system, which is the successor to the Soviet system - the Kub air defense system.
As noted in the Western edition of World Defense News, among the potential buyers of medium-range air defense systems are such states as the United Arab Emirates, Vietnam and the Philippines, they were interested in the Indian complex. Recently, the Indian government approved the sale of Akash abroad, but its export version will differ from the base one.
According to the developer, this system is able to effectively deal with various air targets, including fighters, cruise and ballistic missiles. The creation of the Akash air defense system was launched in 1983, the first firing took place in 1990. The product was officially adopted by the Indian troops in 2015.
The missile system was developed on the basis of the Soviet air defense system 2K12 ["Cube"]
- says the publication.
The Akash launcher, equipped with three ready-to-launch missiles, can be mounted on a vehicle or armored tracked chassis. Four launchers and passive 3D radars each, Rajendra radar and a control center form a battery that is able to track up to 64 targets and strike at 12 objects.
The supersonic Akash SAM has a flight range of about 25 km and is capable of climbing to an altitude of 18 m. It uses solid fuel to launch a launch vehicle and a ramjet engine during the main flight phase. Currently, several versions of the rocket (Akash-MK000, Akash-MK1) are being developed with improved accuracy and greater travel distance.