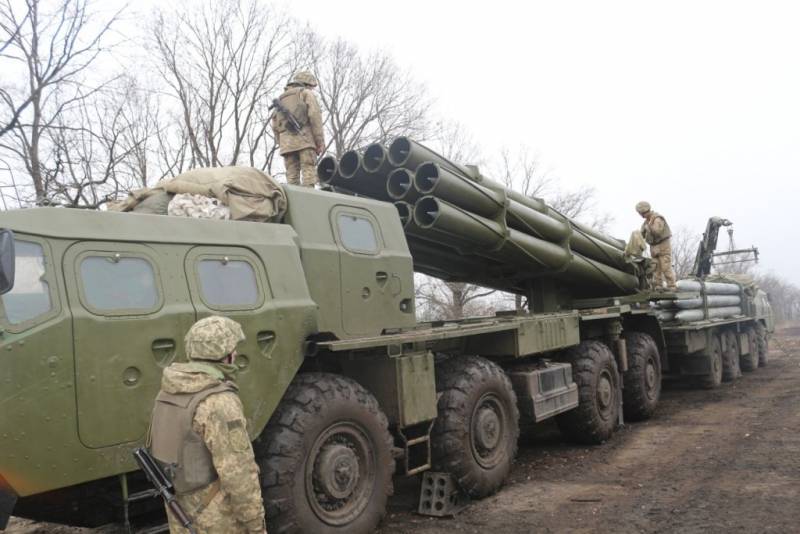 Kiev is preparing for active military operations, continuing to pull heavy armored vehicles and multiple launch rocket systems to the line of demarcation in Donbas. This was reported in the Office of the NM DPR.
The Armed Forces of Ukraine were transferred to the demarcation line of the Uragan and Smerch MLRS, the DPR intelligence recorded the unloading of eight MLRS units at the railway station in Krasnoarmeysk. In addition, active replenishment of ammunition by units of the Armed Forces of Ukraine was noticed. Active movement is recorded in the area of ​​​​field artillery depots near Dolgopolye.
In addition, units of nationalists from the Right Sector extremist organization banned in Russia* and snipers from special forces of the SBU appeared in the area of ​​the front line. Intensive training of units of the RCBZ of the Armed Forces of Ukraine at the Anadol training ground continues, the intelligence of the NM of the DPR does not exclude provocations with the use of chemicals delivered to the settlements of Avdiivka and Krasny Liman at the end of last year.
The first NLAW anti-tank systems, transferred to Kiev by Great Britain, also appeared in the Donbass. As reported, the complexes are coming into service with the assault groups of the 25th and 95th airborne brigades of the Armed Forces of Ukraine, in addition, there is information about the arming of militants from nationalist formations with them, who will have to capture settlements on the territory of the republics.
Intelligence of the People's Militia of the DPR received reliable information about the arrival in the JFO zone of a large batch of NLAW anti-tank grenade launchers intended to equip military units of the Armed Forces of Ukraine located on the line of contact
- said in a statement.
There is an active use of reconnaissance
drones
along the entire line of contact, and not in separate sections, as was the case before.