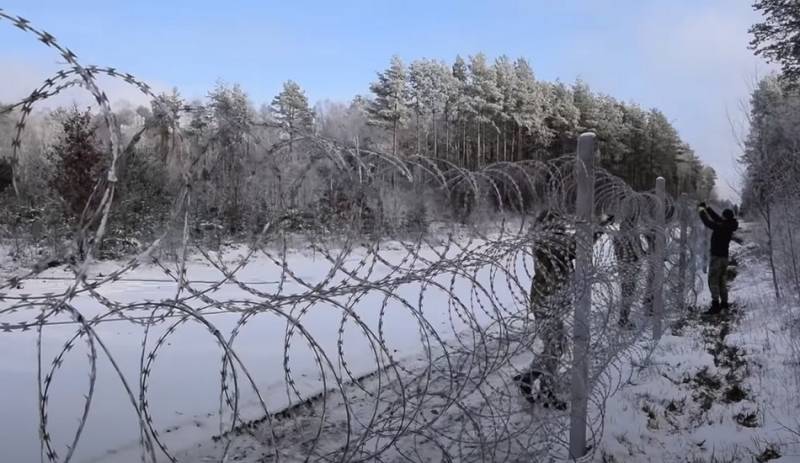 Ukraine urgently strengthens the border with Belarus. According to the press service of the State Border Guard Service of Ukraine, work on the border sections has been activated.
Ukraine has begun an urgent strengthening of the border with Belarus. The intensification of work on the northern border in Kiev is explained by the migration crisis on the border of the European Union and the desire of migrants to enter Ukrainian territory. According to the State Border Guard Service of Ukraine, work on this section started in November, about 30 engineering teams of border guards were involved on a permanent basis. Permanent and temporary barriers are being installed at the border; barbed wire and chain-link mesh will be used for their arrangement. Helipads are under construction in the border area.
However, work on the border with Belarus may turn into a long-term construction, following the example of the Yatsenyuk Wall on the border with Russia, since the funds allocated by the Ukrainian government are enough to equip 62 km of the border out of 1084,2 km. It is assumed that in the near future, instead of installing barriers, they will simply begin to dig anti-tank ditches.
Earlier, the US State Department said that Russia could attack Ukraine through Belarus and this would happen in February, when the Allied Resolve-2022 joint military exercises began on Belarusian territory.
Meanwhile, Minsk said that Ukraine is building up its forces on the Belarusian border. According to the President of Belarus Lukashenko, under the guise of fighting migrants, units of the National Guard and "radical nationalists" are gathering to the border. Currently, up to 10 Ukrainian military are concentrated on the border, who are allegedly preparing to meet "waves of migrants" breaking through from Belarus to Ukraine.