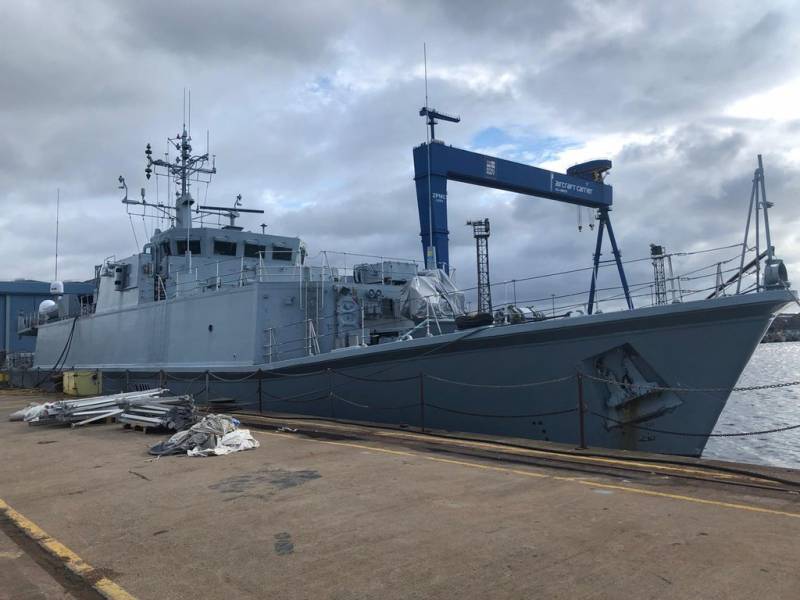 The Ukrainian Navy plans to receive in 2022 only one minesweeper out of two planned for purchase from the UK. This was announced by the Commander-in-Chief of the Naval Forces of Ukraine Alexei Neizhpapa.
Kiev does not yet know the timing of the arrival of the promised Sandown minesweepers in Ukraine, but they hope that the first of them will enter service with the Ukrainian Navy during 2022. The fact that the Ukrainian Navy intends to acquire two anti-mine ships from the presence of the Royal
fleet
Great Britain, it was reported last spring. The ships will be purchased, not donated, and Kiev does not have the funds to buy them, so London will provide a loan. The cost of minesweepers is not disclosed. The agreement on the transfer of minesweepers was reflected in a special memorandum signed by London and Kiev.
In other words, Ukraine will not see real money, but will receive decommissioned ships and owe them a certain amount. Here are the terms of this loan, as well as the timing of the delivery of the ships, and Kiev is negotiating with London. Apparently no agreement has yet been reached.
Earlier, the Royal Navy of Great Britain announced plans to transfer the minesweepers HMS Ramsy and HMS Blyth to the Ukrainian fleet, which have already left the British fleet. It is worth noting that the British intend to decommission all the minesweepers of the Sandown project and get rid of them, replacing them with more modern ships.
Performance characteristics of Sandown-class anti-mine ships: full displacement - 484 tons, length - 52,6 meters, width - 10,5 meters, draft - 2,4 meters. Installed 2 diesels Paxman Valenta 6RP200E with electric drive, diesel speed - up to 13 knots, on electric traction - 6,5 knots.
Armament - anti-aircraft machine gun of 30 mm caliber, 7,62 mm machine guns. Special equipment for finding mines, including a towed GAS. The peculiarity of these ships is the absence of the ability to sweep mines.
Meanwhile, in November last year, the Ukrainian Navy announced the recruitment of crews for two new minesweepers. It was planned that the sailors who signed the contract would go to English courses, and then go to the UK for training.