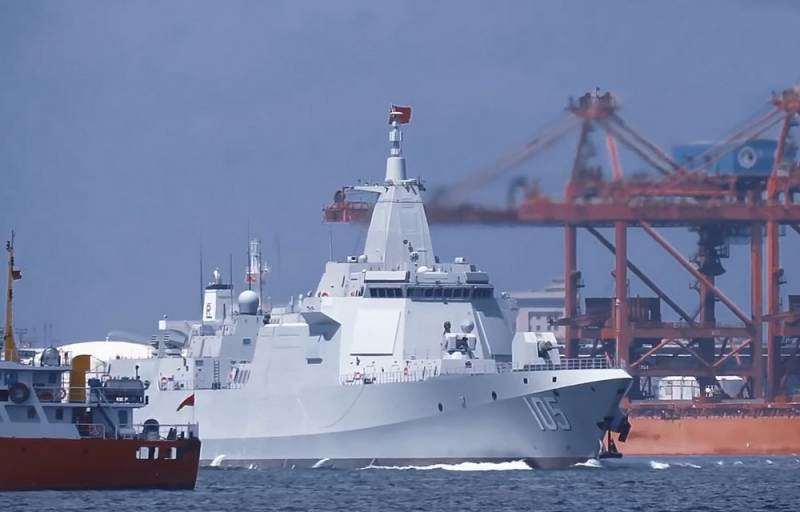 The Chinese Navy is building up its forces, gradually reaching the forefront in the world. According to Military Watch, Beijing has extended the construction of a series of Type 055 destroyers.
To date, the PLA Navy has two newest Type 055 destroyers. The lead destroyer of the Nanchang project was first shown on April 23, 2019 at the naval parade in honor of the 70th anniversary of the PLA Navy, and was officially transferred to the Chinese
fleet
January 12, 2020. The second in the series and the first serial destroyer Lhasa was commissioned into the Navy in March 2021. Both ships are assigned to the naval base in Qingdao, thereby becoming part of the Northern Fleet of the PLA Navy.
According to the newspaper, the Type 055 destroyers are considered the most combat-ready in the Chinese fleet and the largest destroyers in the world, second only to American Zumwalt-class ships, surpassing the Arleigh Burke destroyers and Ticonderoga cruisers. In the US, Type 055 is generally classified as a cruiser.
They have a total displacement of 13 tons, a hull length of 183 meters, a width of 20 meters, and a draft of 6,6 meters. The ship is armed with HQ-9B anti-aircraft missiles with a range of up to 200 km, promising HQ-26 missiles (similar to the American SM-3), YJ-18A anti-ship missiles (similar to Caliber). In total, the ship has 112 universal launchers. It is assumed that the destroyers are also armed with YU-8A anti-submarine missiles. In addition, the ship is equipped with a fully automatic 130-mm H / PJ-38 gun mount, four 30-mm H / PJ-11 anti-aircraft gun systems, short-range HQ-10 anti-aircraft missile systems and torpedoes.
Initially, it was assumed that China intends to build 8 type 055 destroyers, last year it was reported that in addition to the lead and first production ships, six more ships of this project were under construction. However, today there is information about the construction of two more destroyers. Thus, the series will be brought up to 10 ships. At the same time, it is not excluded that the series will be completed according to the improved Type 055A project.
It is assumed that the new destroyers will be included in the escort group of the latest Chinese aircraft carriers, finally turning China into a leading naval power.