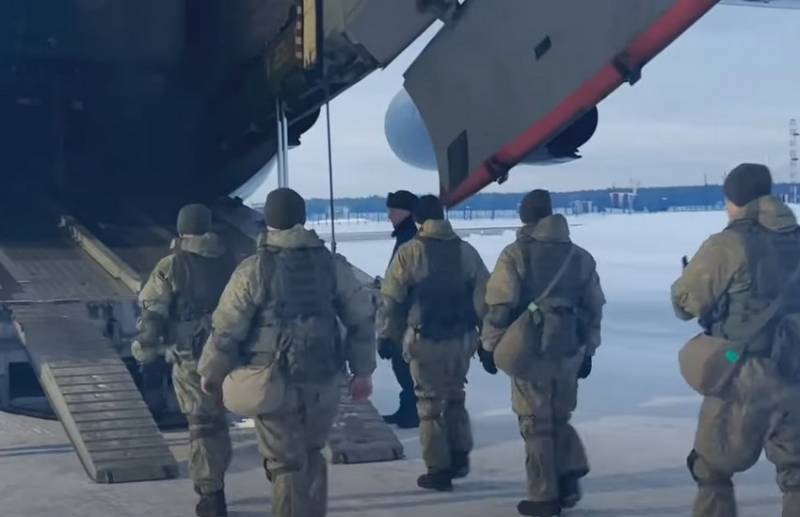 The CSTO countries have begun the introduction of the organization's peacekeeping forces into the territory of Kazakhstan as part of the provision of military assistance. As stated in the CSTO secretariat, servicemen from Russia, Belarus, Armenia, Tajikistan and Kyrgyzstan are taking part in the operation.
The CSTO confirmed the introduction of peacekeeping forces into the territory of Kazakhstan, stressing that they are being introduced for a limited time period to stabilize and normalize the situation. The main tasks of the CSTO military personnel will be the protection of state and military facilities in large cities, in Baikonur and other places, as well as assistance to Kazakhstani law enforcement officers in stabilizing the situation.
It is emphasized that the introduction of peacekeepers is not interference in the internal affairs of Kazakhstan, the decision was made collectively after the official appeal of the president of a sovereign state and in accordance with the CSTO charter.
It is confirmed that Russia has sent airborne units to Kazakhstan; at present, military transport aircraft of the VTA VKS are transferring personnel and equipment of paratroopers to the territory of the republic, details are not provided. What units are being introduced by other countries is not reported, but the advanced units have already begun to perform tasks as intended.
Recall that the President of Kazakhstan, Kassym-Zhomart Tokayev, appealed to the CSTO with a request to introduce peacekeeping forces into the territory of Kazakhstan to neutralize the terrorist threat. He called his appeal "appropriate and timely."