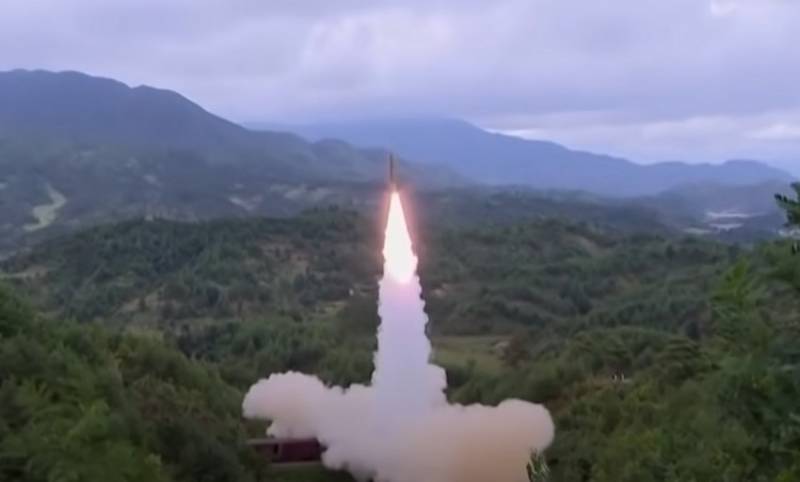 North Korea resumed testing of new weapons, another unidentified munition was launched from a ground installation on Wednesday towards the Sea of ​​Japan. This was reported by the Joint Chiefs of Staff of South Korea with reference to the data of objective control.
The DPRK has resumed the tests of new weapons, stopped in October last year, by launching, it is assumed, a new ballistic missile. Pyongyang itself has not yet commented on the launch of the ammunition; all information comes from South Korea and Japan, which have already responded to the launch.
According to the South Korean military, an unidentified ammunition was launched at about 8:10 (2:10 Moscow time) on January 5, 2022 from a ground installation in the direction of the Sea of ​​Japan. It is assumed that this is a ballistic missile that, having flown a certain distance, sank in its water area, there is no other information at the moment. Seoul said that South Korean intelligence is working with the Americans to obtain new information.
Japan has confirmed the launch of an unidentified ammunition from the DPRK and has already convened an emergency meeting of the response team. In Tokyo, it is believed that the launched ammunition is a ballistic missile that flew about 500 kilometers and fell into the Sea of ​​Japan. This statement was made by the Minister of Defense of the country Nobuo Kishi.
The Japanese Coast Guard has been alerted and a warning has been issued for civilian vessels in the Sea of ​​Japan. They are encouraged to remain vigilant.
Recall that last year, North Korea conducted a series of tests of new weapons, the last launch of a ballistic missile submarines took place on October 19.