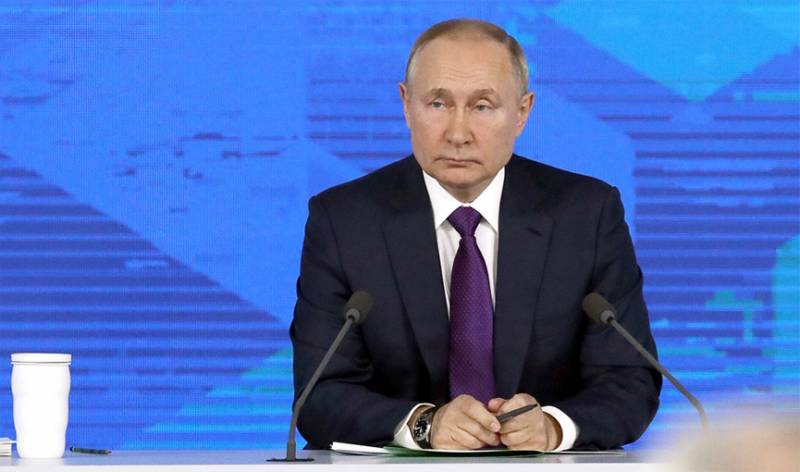 During the press conference, Vladimir Putin was asked a question regarding the situation in Ukraine, including the situation related to security issues. The President was asked to comment on the persistent accusations against the Russian Federation that Russia is allegedly building up a grouping of troops near the borders of Ukraine for an "invasion."
Putin noted that he constantly hears these accusations against the Russian Federation. And behind these accusations, there may be activities of an anti-Russian nature.
According to the president, there is an impression that a new ("third") military operation is being prepared in Ukraine:
And we are constantly being told: Don't interfere.
The Russian President noted that Ukraine continues to turn into anti-Russia, including the supply of weapons.
Head of State:
And how can Russia live in such conditions? With a constant eye on what is happening there? Wait for the fuck up?
During the press conference, the President of the Russian Federation pointed out that Russia had come up with specific proposals on security issues.
Vladimir Putin noted that he had spoken with US President Biden and pointed out Russia's concerns during the talks. According to the head of state, in general, a positive attitude was heard. Specific groups have already been identified that, from the Russian and American sides, will deal with issues of specific negotiations on global security.
President Putin recalled that the situation began to get complicated from the moment when a coup d'etat took place in Ukraine. Today, in the current situation, there is only one option - full compliance with the Minsk agreements.
President Putin:
Poroshenko promised that there would be no military action. But these actions themselves began. Then what? - environment, tension ...
According to Vladimir Putin, Russia cannot resignedly watch the growing threat to its security.
A SkyNews spokeswoman asked Putin to give guarantees of non-aggression against Ukraine and other countries. According to the President of the Russian Federation, the West must understand that the main guarantee is to stop threatening Russia itself, to abandon the deployment of strike systems near our borders, and to stop NATO expansion.
How would the United States react to the fact if our missiles appeared on the border of Mexico and the United States. There are also territorial issues there. California, Texas who owned? They don't remember. And they remember about Crimea ... Five waves of NATO enlargement. We are the ones who came to Britain or the United States. No, they came to our borders. And you demand guarantees from me. You must give us a guarantee, and immediately!