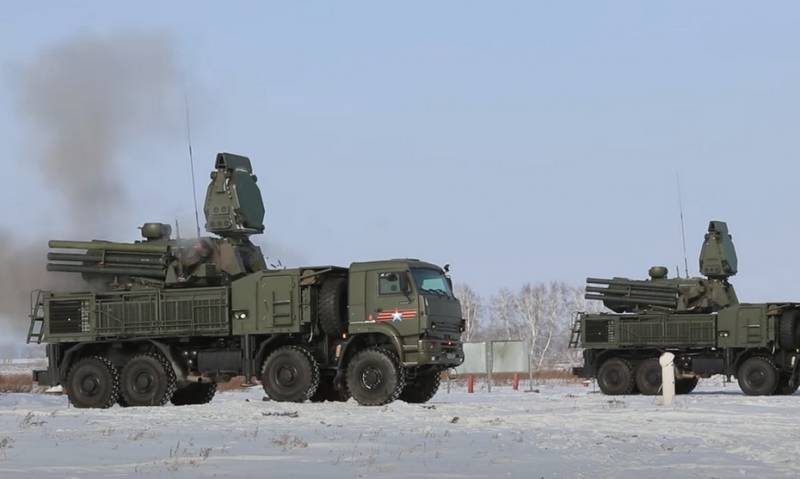 The Defense Ministry expects a new batch of Pantsir anti-aircraft missile-gun systems to enter the troops. The delivery of equipment will take place before the end of the year, said the commander of the air defense and missile defense forces - deputy commander of the Russian Aerospace Forces, Lieutenant General Andrei Demin.
According to the general, by the end of the year, the air defense forces will receive three divisional sets of Pantsir-S air defense missile systems. Demin did not provide more detailed information, it is also unknown whether the already modernized Pantsir-SM air defense missile systems or the Pantsir-S air defense missile systems previously adopted for service will be delivered.
Demin also spoke about the anti-aircraft and anti-missile systems delivered this year. As follows from the interview given by him to the publication
"Independent Military Review"
During this year, the air defense forces received two regimental sets of S-400 air defense systems, a regimental set of the new S-350 Vityaz air defense system, as well as more than 600 anti-aircraft guided missiles of various types.
Note that a new Pantsir-SM anti-aircraft missile-gun system has been developed for the Russian army, in which all the shortcomings inherent in the base model have been corrected. Unlike the Pantsir-S air defense missile system already in service, the new complex was armed with a missile with an increased speed (up to Mach 5 against 1300 m / s of the Pantsir-S missile 57E6E). In addition, Pantsir-SM received a new multifunctional sighting station with an active phased antenna array, which allows it to "see" targets at a distance of up to 75 km. The aiming range of the new complex has been increased to 40 km. The complex is capable of recognizing and striking all types of unmanned aerial vehicles.
The export version of the ZRPK, previously supplied abroad, has the name "Pantsir-S1E" ("E" stands for export), and the modernized version is called "Pantsir-S1ME".