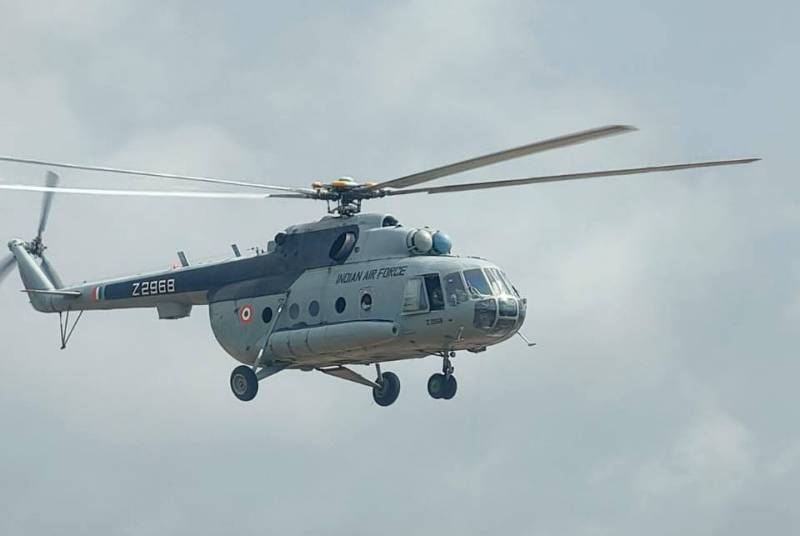 An Indian Air Force military helicopter crashed in southern India. The Chief of the Defense Staff of the Indian Armed Forces, General Bipin Rawat, was on board.
According to local media reports, a Mi-17V-5 Indian Air Force helicopter crashed in the Nilgiris district of Tamil Nadu state near the town of Coonoor in the highlands. According to preliminary information, there were 14 people on board the helicopter, including General Ravat, his assistant, the general's security men and the helicopter pilots. It is also reported about the possible presence of the general's wife in the helicopter.
The helicopter flew from the Indian Air Force Base in Sulur and was on its way to the Armed Forces Headquarters College in Wellington in western Tamil Nadu. The reason for the fall of the helicopter has not been established; a special commission will deal with this. The helicopter caught fire during the fall, and it was not possible to extinguish it.
An Air Force Mi-17V-5 helicopter carrying General Bipin Rawat on board today crashed near Coonoor, Tamil Nadu. An investigation was launched to establish the cause of the accident.
- said on the official page of the Indian Air Force on Twitter.
The death toll varies, with three survivors reported and five dead, whose bodies were retrieved from the wreckage of a helicopter. There is information that the general was taken to a nearby hospital, but nothing is said about his condition. According to information from another source, several people were taken to the hospital in serious condition, all of them have extensive burn injuries. There is no official information on the survivors and the dead.