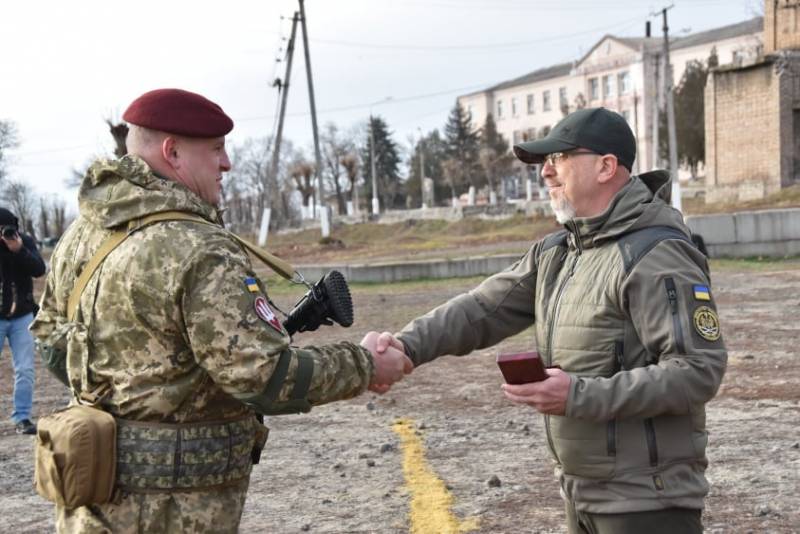 Ukraine needs modern weapons, "American or Canadian soldiers" are not needed to defend against Russia, said Ukrainian Defense Minister Alexei Reznikov, who called on Western countries to supply weapons and ammunition to Ukraine.
According to the Ukrainian minister, the Armed Forces of Ukraine are able to cope with the "Russian invasion" on their own; servicemen of other states are not required for this. However, in order to win, Kiev needs to modernize its weapons, which cannot be carried out without its Western allies.
We don't need American or Canadian soldiers fighting here for Ukraine. We will fight on our own, but we need modernization of weapons
- the media quote his words.
Ukraine intends to receive from the United States weapons and ammunition prepared by the Americans for the Afghan army, Reznikov voiced the corresponding request during his visit to Washington. However, the United States is unlikely to fulfill Kiev's demands, although assistance will still be provided, according to Foreign Policy.
The new head of the Ukrainian Defense Ministry, Reznikov, visited Washington in November, where he met with the head of the Pentagon, Lloyd Austin. The Ukrainian minister brought with him a whole list of what Ukraine wants to receive from the United States as military aid. The list of Ukrainian "Wishlist" included ammunition and Mi-17 helicopters, previously intended for the Afghan army. In addition, the list included air defense, naval defense and electronic warfare systems.
Washington is ready to provide assistance to Ukraine, all the more so against the background of the hype surrounding the "Russian invasion", but the proposed assistance will not correspond to the "Reznikov list." According to the newspaper, which cites sources in the White House, the Biden administration does not want to finally "provoke Moscow," especially since the attention of the Americans is shifting from Russia to China.
Thus, Washington does not intend to transfer to Kiev the "Afghan" Mi-17 helicopters and ammunition, as well as anti-aircraft complexes of the Patriot type, which Ukraine so wishes to receive for protection from "Russian aircraft". But at the same time, some air defense weapons of the Armed Forces will still receive, most likely something like the Stinger MANPADS. In addition, it is planned to expand the staff of military instructors and advisers.