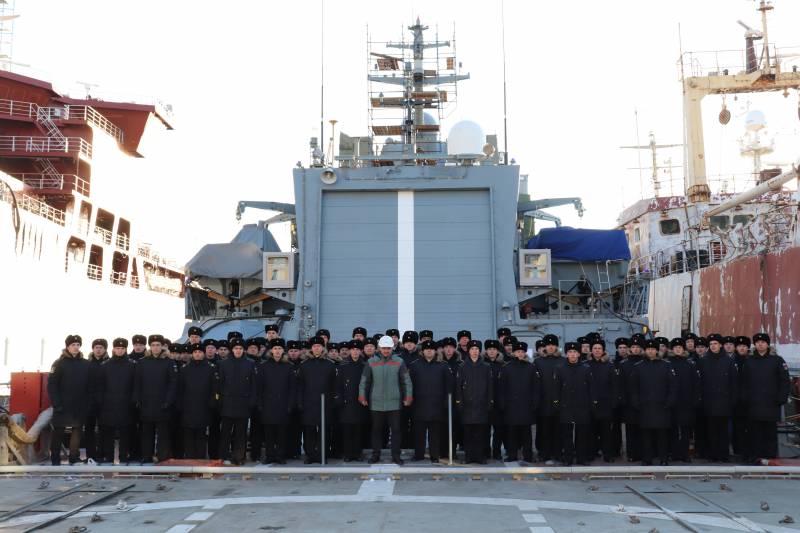 The corvette "Sharp" of project 20380, built for the Pacific Fleet, was occupied by the crew. According to the press service of the Amur shipyard, in the near future the ship will begin preparations for entering sea trials.
The crew moved into the corvette "Sharp". This means that all the interior of the ship, including the crew quarters, the wardroom and the galley, are complete, all the ship's survivability systems are checked and working. The crew has already been fed a full meal prepared in the new galley.
Currently, the corvette is at the delivery base of the Amur shipyard in Vladivostok, where mooring tests are slowly underway. After settling in the crew, the ship proceeds to full-scale mooring tests and begins preparations for the factory running and acceptance tests, i.e. those where the crew of the ship and the commissioning team of the plant are involved.
The Amur Shipyard confirmed that work on the corvette is proceeding in accordance with the schedules; the ship will be handed over to the customer next year.
Corvette "Rezky" is the fourth ship of project 20380, under construction at the Amur Shipyard for the Pacific
fleet
... Laid down in 2016. Corvettes "Perfect", "Gromkiy" and "Aldar Tsydenzhapov" have already become part of the Pacific Fleet. In total, the Pacific Fleet will receive six corvettes of this project, then the plant will build project 20385 corvettes.
Corvettes of project 20380 are classified as multipurpose surface combat ships of the 2nd rank of the near sea zone. Features of the ships of this project are compactness, stealth, high percentage of systems automation. Designed for the search and destruction of submarines, surface ships and enemy ships, the defense of naval bases.