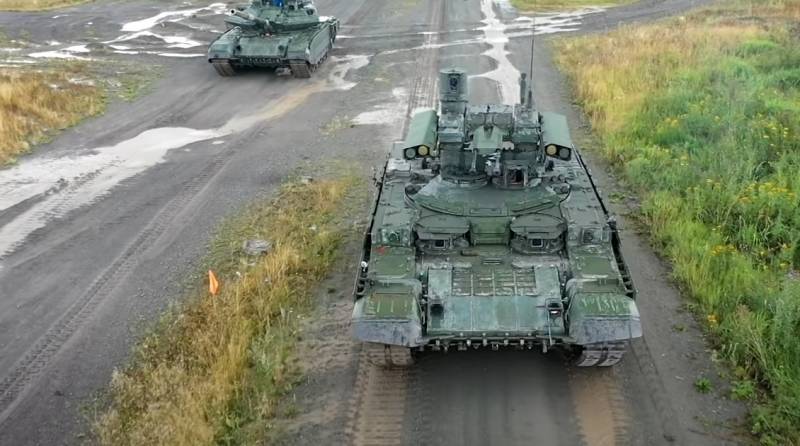 Since its first public appearance, the Terminator BMPT has generated a lot of interest among reviewers. Armored vehicle designed on the chassis
tank
T-72, has an impressive arsenal of weapons, represented by two 30-mm automatic cannons, 4 ATGM 9M120 "Attack-T", two 30-mm grenade launchers and a 7.62-mm machine gun.
This innovative approach was the result of an awareness of the vulnerabilities of BMPs and armored personnel carriers, which manifested themselves during the Afghan and Chechen campaigns. The mission of the BMPT is to escort armored vehicles, destroy, as it advances, centers of infantry resistance, especially in urban areas, and enemy armored vehicles
- explained in the French edition of Meta-defense.
However, the Terminator was exported only to Algeria and Kazakhstan.
Assurances [of the effectiveness of the Terminator] on the part of the Russian military aroused open distrust [among potential buyers]. How can you convince of the advantages of BMPT over a pair of "MBT + BMP"?
- the author asks.
In his words, moreover, the newest Russian models, such as the T-15, Kurganets and Boomerang, BMP-2 with the Epoch module and 57-mm cannon, have much greater firepower in comparison with the Terminator. ... Moreover, in addition to the tank, they transport the troops, which are necessary to accompany the equipment, especially in urban conditions.
Despite all this, the Russian army decided to equip part of the BMPT troops: the first company of "Terminators" has already been formed as part of the 90th division. However, the publication believes that the very idea of ​​BMPT is doomed to failure.
First, there is an increase in firepower (in comparison with the capabilities of the BMPT), both Russian and foreign technology. Secondly, infantry fighting vehicles and new reconnaissance armored vehicles have much greater mobility and versatility than the Terminator. An example is the new French Jaguar EBRC armored vehicle with a 40mm cannon and a new generation MMP ATGM, which is said to have "comparable firepower to BMPTs and much greater mobility."
Therefore, despite the theoretical attractiveness of the BMPT concept, its presence in Russian troops will remain limited, if not completely short-lived.
- make a conclusion in the French edition.
Jaguar EBRC: