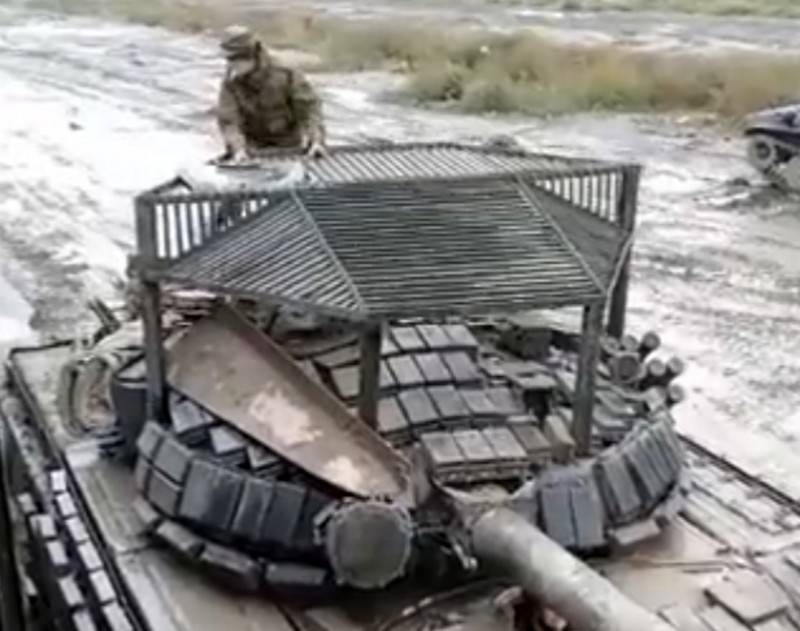 Like the T-34 in its time, the T-72 has become a symbol of the modern era. But in the conflicts that took place in Syria, Libya and Karabakh, he could not resist the Turkish laser-guided missile MAM-L, which was dropped on the enemy's armored vehicles by ANKA and Bayraktar TB2 strike drones.
MAM-L became the killer of more than a hundred T-72
- noted in the edition SavunmaSanayiST.
Ukraine has already armed itself with Bayraktars. Its army also possesses the Javelin ATGM system, whose missiles operate in Top Attack mode [strike into the upper hemisphere of armored vehicles].
Russia is taking some passive measures in an attempt to defend its
Tanks
against these threats
- the author considers.
One of the amateur photos shows the T-72B1 with reinforced turret protection from above. He was allegedly filmed in Crimea. It is possible that the grilles installed on the tank are designed to reduce the destructive effect of the Javelin ATGM. But the publication believes that the effectiveness of the "birdhouse" against these ammunition, which has an armor-piercing tandem warhead, looks very dubious.
This suggests that this solution [birdhouse], developed by the Russians, is in fact directed against the MAM family of munitions, which have very successfully acted as tank and armored vehicle killers in Karabakh, Syria and Libya. It is unclear how effective this solution will be. At this stage, we can say that these tanks are only being tested.
- the conclusion is made in the Turkish edition, while indicating that the grid can fight other threats, for example, with small ammunition fired from the UAV.
MAM-L work in Nagorno-Karabakh: