What are the designers capable of having received carte blanche? Flying war machines
Tanks
with four tracks, military robots are just the tip of the iceberg of engineering. We present the project "The strangest combat vehicles in the world" from the creators of the legendary game World of Tanks. The rubric tells about the amazing, courageous and disastrous decisions of tank engineers. The protagonist of this issue is the first serial German tank A7V.
In September 1916, the British used their diamond-shaped Mark I for the first time in battle. About 30 vehicles attacked the German positions and provided a tactical advantage. Countermeasures followed very soon - the designers of Germany presented a moving fortress on tracks with the index A7V. A total of cars were produced.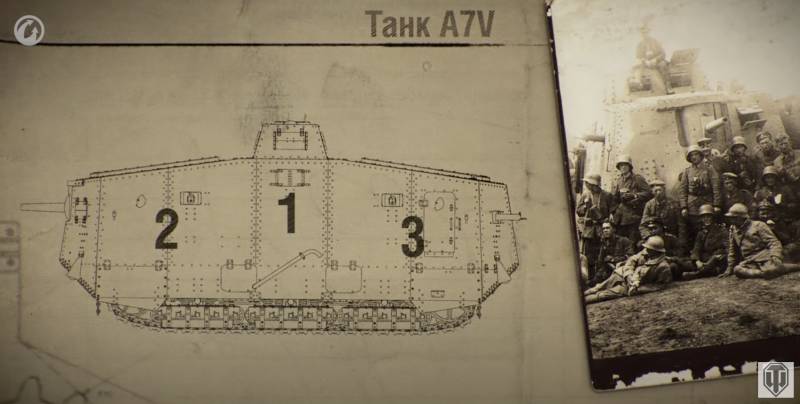 The German tank can be roughly divided into 3 parts. An engine was installed in the center, and in the front and aft there were fighting compartments with an artillery gun and machine guns, of which there were a total of 6 pieces. A 56 mm cannon was installed in the bow of the hull as the main weapon. Also, the designers planned to equip the tank with a flamethrower, but this did not come to that.
Compared to other combat vehicles of the First World War, the A7V was perhaps the most armed and possessed the greatest amount of firepower. In theory, he could perform a wide range of combat missions, but in practice, not everything worked out.
Another feature of the tank was the number of crew members. In order to realize his potential, it took a lot of fighters. The gun and each machine gun were served by several people. In addition, the vehicle was attended by a commander, a driver, two engineers who constantly monitored the condition of the engines, and several specially trained mechanics. In total, the tank had from 18 to 23 crew members.
The conditions inside the A7V are not comfortable. Temperatures from 50 to 70 degrees Celsius and exhaust gases led to the fact that the crew sometimes simply did not have enough air. Due to the fact that the engines were not isolated, it was cramped inside and very loud. In addition, the battlefield was practically invisible from this steel box. It was hard inside and carrier pigeons, which provided communication with the line of defense.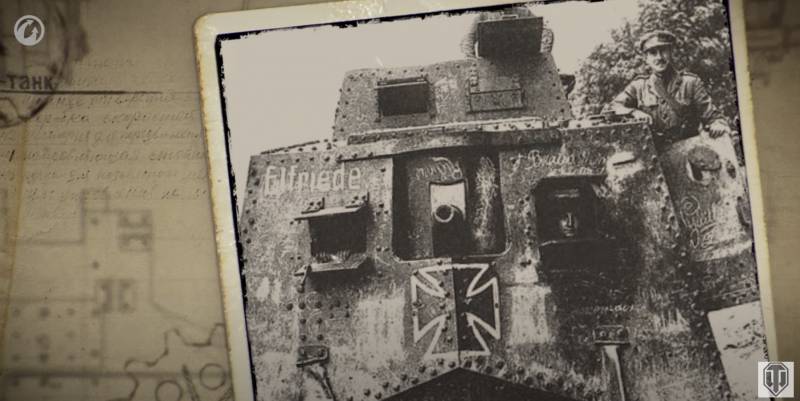 With its size and number of guns, the A7V terrified enemy infantry. In addition, the tank had the best armor of the time. However, the size of the vehicle made it an easy target for artillery.
A7V without exaggeration can be called one of the most interesting and strange combat vehicles of the First World War. It is considered a "dinosaur" in the evolutionary tree of tanks, and despite the dead-end branch of its development, it still remains a subject of discussion among historians and experts.
For more details on the German heavy tank A7V, see the video from Wargaming.