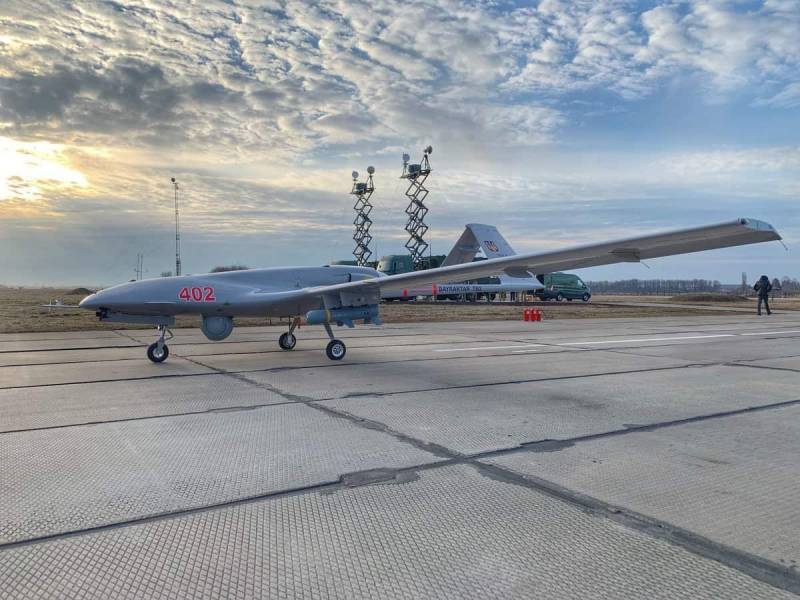 Bayraktаr TB2 attack drone with Turkish identification numbers spotted on the territory of Ukraine. As reported by the Operative Line Telegram channel, earlier this drone was seen in the skies over Syria and Turkey.
According to the channel, Bayraktаr TB2 with the number TCB-804 was spotted in the Mariupol area, heading for the Kulbakino airbase, where drones belonging to the Armed Forces of Ukraine are deployed. It is reported that a drone with the same number from around the end of 2019 would have been spotted several times over Turkish and Syrian territory by several air resources.
The Telegram channel suggests that the reason for the appearance of a drone with such identification data may be that Turkey is not supplying new drones to Ukraine, but used ones, and the Ukrainian Armed Forces did not bother to change the drone's data. It may also be that this is a Turkish-owned strike drone, which, in the form of assistance, was temporarily transferred to the Armed Forces of Ukraine together with Turkish operators to solve any problems on the contact line. Another reason for the appearance of the drone with the number TCB-804 is the actions of hackers who replaced real data with fake ones.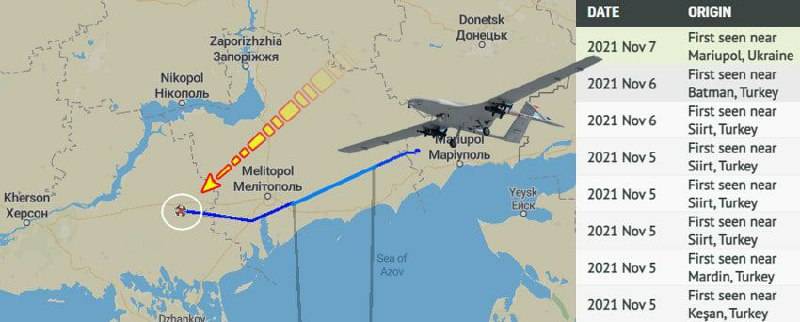 Some commentators
news
expressed surprise at the very fact that the attack drones fly with the transponder turned on, another part expressed the opinion that this is a Ukrainian drone, and an error simply crept into the data. Nobody supported the option with a rented drone.
Note that since the spring of this year, the Armed Forces of Ukraine have been using Bayraktаr TB2 drones near the demarcation line in Donbass for reconnaissance and have already managed to use them to strike at the positions of the militia of the people's republics of Donbass.