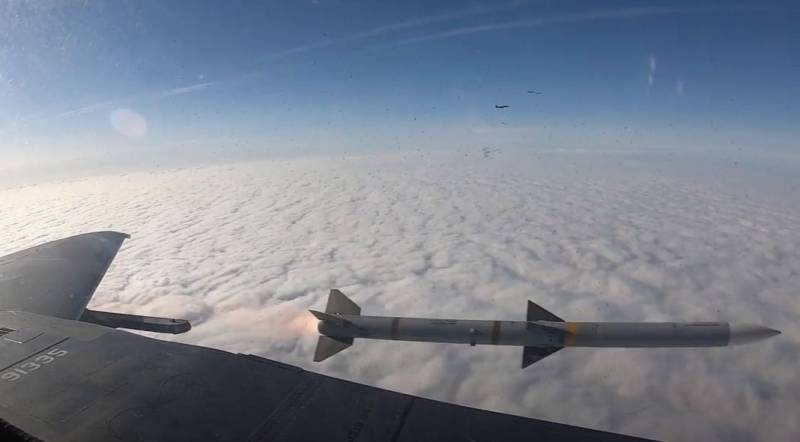 In total, the national air force will receive 280 AIM-120C missiles as part of a $ 650 million arms deal.
The Pentagon has confirmed the consent of the State Department to supply missiles to Saudi Arabia.
The decision is made in response to a request from Riyadh to sell 280 improved AIM-120C-7 / C-8 (AMRAAM) medium-range air-to-air missiles (AMRAAM) to hit targets outside the line of sight.
By giving its consent, the United States would be able to provide the Saudi Arabian Air Force with missiles and everything necessary for them - technical support, equipment and spare parts. Raytheon Technologies will be the main contractor for this order.
Washington postponed the deal
Earlier this year, the Biden administration suspended the deal indefinitely following a political decision to mitigate violence in Yemen, leading to an unprecedented humanitarian crisis.
The Riyadh deal was eventually approved in response to escalating violence over the past year by Houthi rebels linked to Iran.
- a spokesman for the State Department told the press.
The new missiles are planned to arm the Saudi fighters Eurofighter Typhoon, F-15C / D, F-15 and F-I5SA. The State Department spokesman also noted that modern missiles are effective against rebel UAVs, which threaten both the civilian population of Saudi Arabia and the American contingent deployed there.
At the same time, it is emphasized that missiles are not used to destroy ground targets. The official also noted that the sale "is fully in line with the State Department's pledge to pursue diplomatic work to end the conflict in Yemen, while providing Saudi Arabia with the means of defense against Iranian-backed Houthi airstrikes."
A step forward for the Saudi F-15
The deal fits well with the long-standing, albeit conflicting, defense interactions between the two countries. The United States has been supplying F-15s for the Saudi Arabian Air Force for a long time. In particular, in 2011, in line with this cooperation, Washington and Riyadh reached an agreement to supply the Saudis with fighters and weapons worth $ 30 billion.
This big deal included the supply of 84 F-15SA, the modernization of 70 fighters already in the Royal Air Force, as well as the supply of ammunition, spare parts, training of pilots and technical personnel, etc.