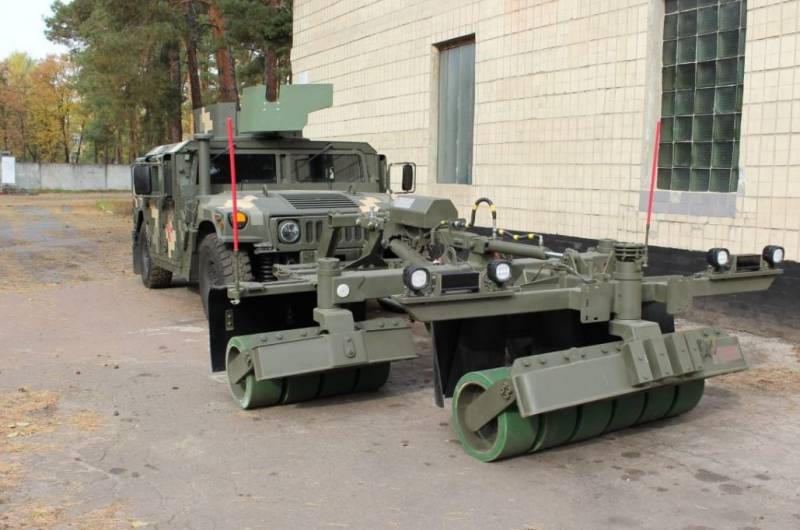 In Ukraine, sappers of the Armed Forces of Ukraine are mastering SPARK mine sweepers for Humvee off-road vehicles (HMMWV), which have provided the United States as technical military assistance. Such mine action equipment is produced by the British company Pearson Engineering, one of the world leaders in the production of mine clearance devices.
This was reported by the "ArmyINFORM" news agency, owned by the Ministry of Defense of Ukraine.
Lieutenant Colonel Sergey Matveychuk, senior officer of the department of engineering obstacles and mine countermeasures of the Command of the Support Forces of the Armed Forces of Ukraine, spoke about the fundamental differences between the SPARK trawl and others in service with the Armed Forces of Ukraine. If other trawls are designed to make passages in their own and enemy minefields, then the scope of British products is much wider.
This SPARK trawl is designed primarily to support the mobility of troops, that is, it reduces the risks of detonation on explosive items of military equipment and personnel when moving convoys
- noted Matveychuk.
Unlike ordinary
tank
trawls, SPARK has been designed for installation on vehicles and tactical wheeled platforms.
The trawl consists of three roller sections - four rollers in the outer sections and six in the central section. They provide contact with the surface causing explosive objects to detonate. The necessary pressure is generated hydraulically, and the air suspension maintains continuous contact with the surface, even in difficult terrain.