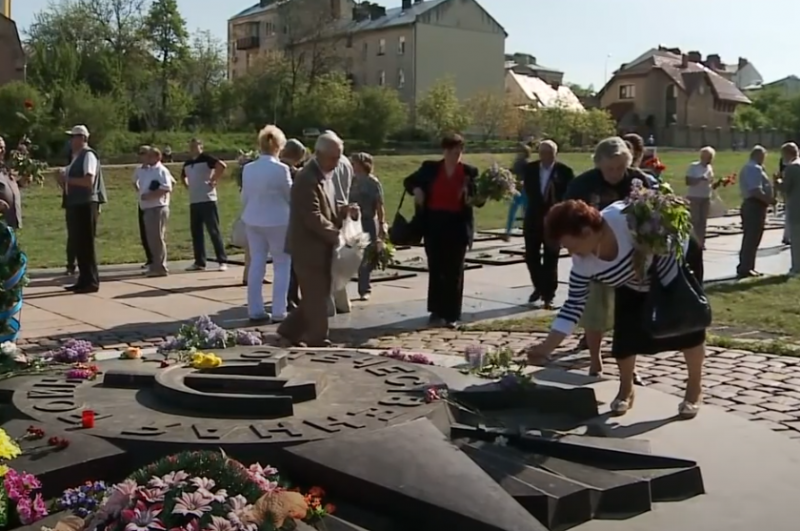 Ukraine continues to get rid of the "Soviet legacy". Today, on October 26, 2021, a memorial sign "Order of the Great Patriotic War", installed at the military memorial "Field of Mars", where Soviet soldiers are buried, was dismantled in Lviv.
Reportedly, the dismantling of the memorial sign, to which the Ukrainians, who have not yet forgotten their
history
, every May 9 they carried flowers, pushed through by nationalists from the organization "Society of the Future of Lvov". According to the representative of the nationalists Anton Petrovsky, this sign was "a symbol and sign" of the presence of Russians in Lviv, and its dismantling is a process not only of decommunization, but de-Russification of Ukraine.
It is noted that they started talking about the dismantling of the memorial sign immediately after the nationalist coup in 2014 that took place in Ukraine, but the city authorities did not start work for a long time. However, the nationalists managed to insist on their own and the decision to dismantle it was made on October 8 at a meeting of the executive committee, and unanimously. The document entitled "On the Arrangement of the Territory of the Lychakiv Military Cemetery", implying the dismantling of the central element of the military memorial-burial "Field of Mars", was supported by all the deputies.
Now the dismantled order, popularly nicknamed the "Star of Victory", will be transferred to the so-called "Territory of Terror" museum organized in Lviv.
The Russian Foreign Ministry previously sent a note of protest to Kiev demanding fulfillment of obligations to protect military memorials, but this demand was ignored in Ukraine.