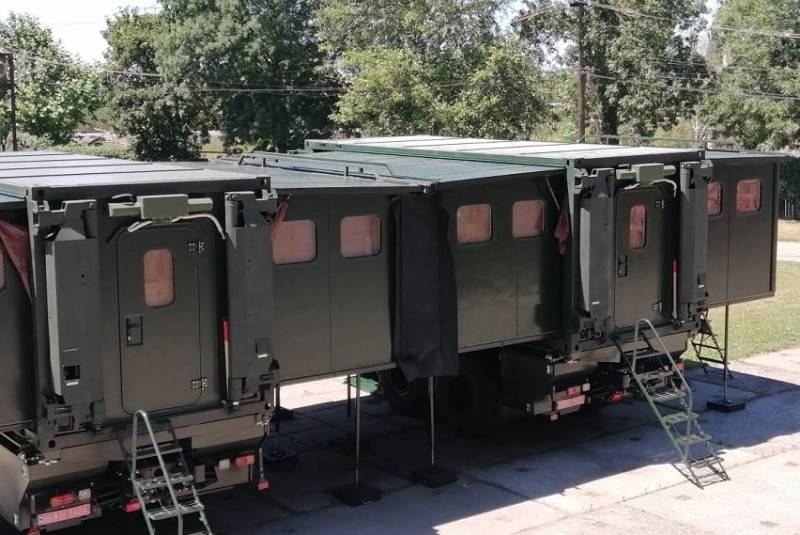 At the Kremenchug plant in Ukraine, a command vehicle based on the KrAZ vehicle was created. It was shown to the general public in Kiev during a series of specialized exhibitions that took place from 19 to 21 October.
It is reported by the Ukrainian magazine "Autocentre", dedicated to automotive topics.
Actually, the equipment presented in the Kiev International Exhibition Center should be more correctly called a staff road train. It consists of a command vehicle (MSh) on the KrAZ-63221 chassis with a 6x6 wheel arrangement and a command trailer (PSh). They were manufactured at the Kremenchug Automobile Plant. Bodies-vans installed on the car and trailer were manufactured at the Odessa enterprise "Pivdenavtobud".
The main purpose of the headquarters train is to ensure round-the-clock work and rest of the operational staff of control points in any weather conditions. The car can accommodate seven personnel.
The technique can work offline. The modules are provided with a filtering unit, air conditioner and heater.
The command vehicle is provided with three types of power supply. The main one is an industrial network with a voltage of 220 or 380 volts. The backup function is performed by a 5,5 kW diesel generator. Emergency power supply is provided by rechargeable batteries. Everything is arranged so that when the mains supply is disconnected, the generator automatically turns on and starts charging the batteries.