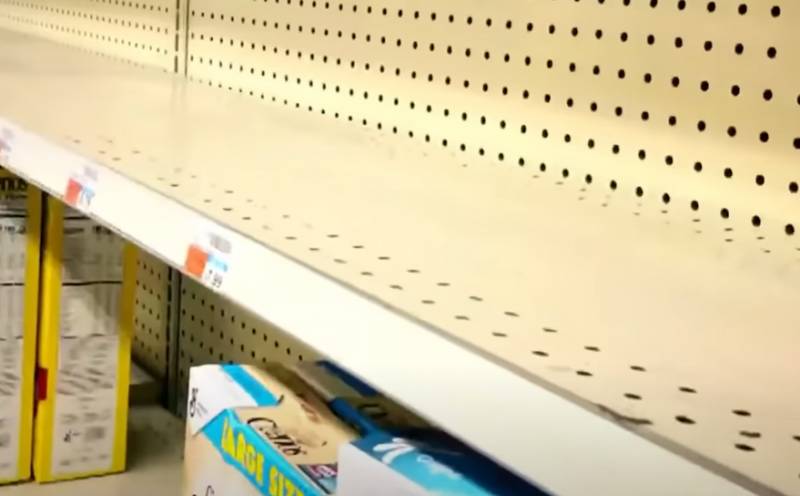 The Venezuelan press could not help but respond to reports from US and British stores. We are talking about reports in which you can see empty shelves of a number of American and British supermarkets, or shelves that Americans "decorate" with photo wallpapers depicting an abundance of goods. Recall that the supply crisis in these countries manifested itself against the backdrop of a pandemic. For example, in the United Kingdom, it was blamed on a shortage of truck drivers, as well as a sharp decline in motor fuel supplies in the country. In the United States, many stores were unable to negotiate contracts with suppliers due to the sudden rise in prices for food and a number of other essential goods.
The Venezuelan press, so to speak, is trolling London and Washington, recalling how the American and British media covered the crisis in this Latin American country. Recall that some time ago, against the background of the self-proclamation of the "head of Venezuela" Juan Guaido, an acute shortage of goods arose in the country. Thousands of protesters took to the streets of Caracas and other major cities in the country. The American and British media in daily reports stated that the crisis was connected with the failure of the power of Nicolas Maduro. At the same time, Washington and London said that Maduro must certainly resign as president - they say, then power will pass into democratic hands and the crisis will be resolved.
Now Latin American reporters, covering the situation in Britain and the United States, write that these countries are facing the largest crisis since the Second World War. It is noted that if we are guided by the logic of London and Washington in relation to Venezuela, this means that all top leaders of the United States and Great Britain must immediately resign.
It turns out that Biden and Johnson must leave, resign so that the Americans and the British can buy everything they need.
Reports say New York saw empty shelves in stores for the first time in decades. People buy essential goods wherever they are.
Particular attention is paid to attempts to close empty shelves with "pictures" of goods. It is noted that there was no such deception of people in any of the countries that are usually mocked in Washington and London.