The shipbuilding industry has confirmed the possibility of using the project 11711 large landing craft as a minelayer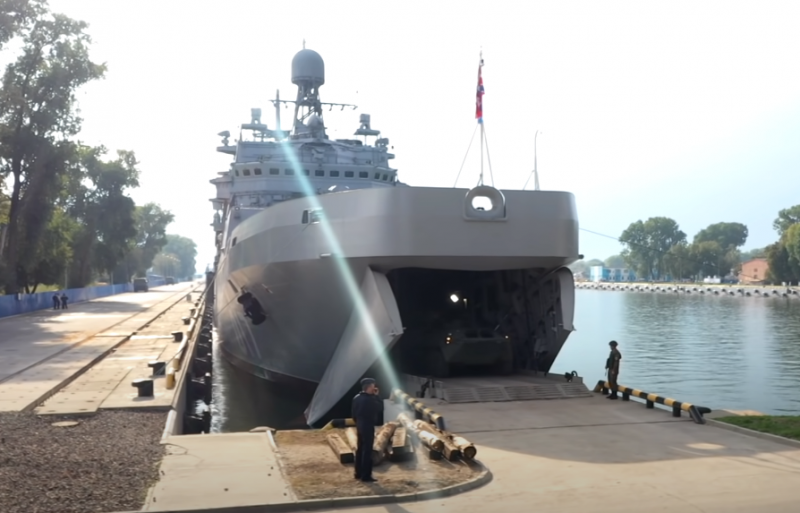 All large landing ships (BDK) developed in the Soviet Union can be used as minelayers, this possibility is provided for by their design. There is such an opportunity for the new BDK project 11711 already built in Russia.
A large landing ship of Project 11711, acting as a minelayer, can set up a minefield that can "close" an entire sea area. According to a source in the shipbuilding industry, the ship can take on board several hundred sea mines. Thus, he answered the question about the possibility of the new BDK to install mines through the aft ramp.
Taking into account the capabilities and dimensions of the Project 11711 BDK, it is capable of receiving hundreds of sea mines, depending on their purpose. This amount is enough to block not only any strait zone, but also vast sea areas.
- leads
TASS
source words.
Currently, the Russian Navy has only two BDKs of the new project 11711 - the head "Ivan Gren" and the first serial "Pyotr Morgunov". Two more large landing ships are being built in Kaliningrad at the Yantar shipyard, albeit according to a modernized design. The ship is capable of accommodating 13
tanks
or more than 30 armored personnel carriers and infantry fighting vehicles. Also, the BDK provides for the deployment of a reinforced marine battalion, as well as the temporary basing of various types of shipborne helicopters.
Note that despite the possibility of using the BDK as a minelayer, it is better to let the ships specially created for this deal with this business, and the task of the landing ships is to deliver troops.