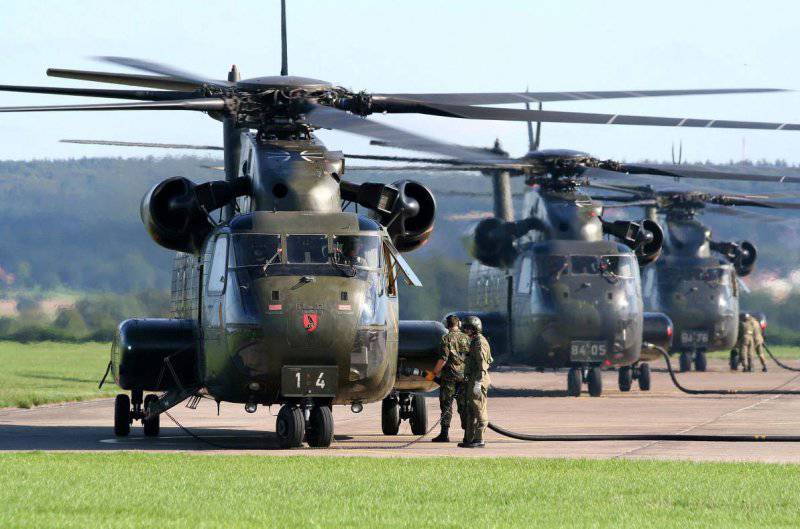 During the exhibition, the Eurocopter ILA-2012 officially handed over the first modernized medium transport helicopter CH-53GA to the German Armed Forces.
Germany's Federal Office of Defense Technology and Procurement (BWB) 14 February 2007 signed a contract with Eurocopter Deutschland to upgrade X-NUMX CH-40G (S) transport helicopters to CH-53GA configuration in order to extend their lifespan and ensure compatibility with modern systems communication and management.
The contract provides for the modification of structural elements and some helicopter assemblies, which will extend their lifespan for 4000 flight hours (from 6000 to 10000 hours). In addition, the entire electrical system will be completely replaced.
As part of the contract, the helicopters are equipped with advanced information display devices and an automatic flight control system / four-axis autopilot; modern digital avionics; navigation system and equipment that allow flight instrument in accordance with international requirements; additional fuel tanks in the cockpit, which allows to increase the flight range to 1200 km; modernized communications and data transmission systems for compatibility with operations with new Tiger attack helicopters and NH-90 transport helicopters; FLIR infrared front view system; satellite communication system (SatCom) and electronic warfare system (EWS) for self-defense and threat identification.
According to Flight International, with reference to Eurocopter's program manager Stefan Emig, the company conducted all the necessary tests and certification using two prototypes. By the end of September, it is planned to complete additional certification of helicopters.
In addition to the machine presented on the ILA-2012, three modified CH-53GA helicopters from July 2012 have been used for crew training. By the end of the year it is planned to transfer four more cars to the German Armed Forces.
Germany intends to send upgraded CH-53GA helicopters to Afghanistan by the end of next year.
CH-53G helicopters are in service for more than 35 years and in the medium term will remain the main platform for operations to deploy units of the Armed Forces of Germany and the transport of goods in international missions. The helicopter can be used in adverse weather conditions.
At the plant of the concern Fokker (VFW-Fokker) in Germany from 1971 to 1975. The X-NUMX CH-110G helicopters, which are a version of the C-Steel CH-53D heavy helicopter, were built.
According to existing plans, the German Armed Forces will rely on the 66 of the 84 currently available CH-53, including the 20 machines in the GS version and the 6 in the GE version.