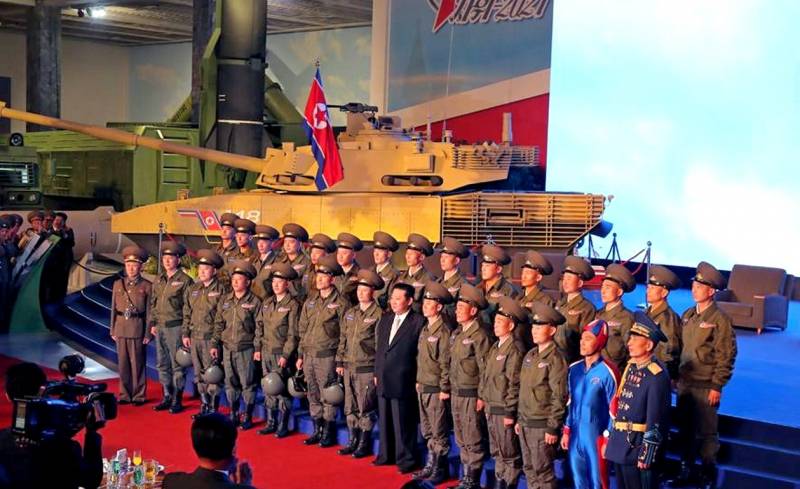 The new main battle tank of the North Korean army, very reminiscent of both the Russian T-14 "Armata" and the American "Abrams", was shown at the exhibition of achievements, held in Pyongyang.
The photo, which appeared on the Web, shows a new North Korean tank, reminiscent of a hybrid of "Armata" and "Abrams". Moreover, from the modern version of the American
tank
he has declared weight parameters - about 64 tons.
It should be noted here that this is not the first demonstration of this tank, but its name is still unknown. The first time this tank, and not a single copy, was shown at the military parade in honor of the 75th anniversary of the country's ruling party, held in October last year, i.e. exactly a year ago.
The display of this tank caused controversy both on the Web and among military experts. Several theories have been put forward for the emergence of this technique. So the American edition of The National Interest stated that this is a Soviet T-62 tank, converted by North Korean designers. According to the Americans, the tank has been given new hull and turret contours, which makes it look like both the Abrams and the Armata at the same time. Despite the fact that these claims are not supported by anything, experts from NI argue that in any case, this is not a tank designed from scratch.
It is difficult to assert something specific in the absence of information, but it is worth noting that the new tank has seven rollers, and not six, like the T-62 or T-72, on the basis of which all North Korean tanks have been developed. It is worth paying attention not only to the angular shapes of the turret and hull, but also to the short cylinders located on the sides, reminiscent of the ammunition of the Russian KAZ "Afganit", and other active protection system devices located on top of the turret. What kind of KAZ is this, whose development, whether it is a real one or is it a model, there is no information.
The armament of the tank is a 125-mm or 115-mm cannon, it has not been precisely established, a 7,62 mm machine gun and a 40-mm automatic grenade launcher. Earlier it was also reported about the installed ATGM installation of two missiles, located on the right side of the tower. It is not visible in the photo, as the tank is on its left side.
Due to the secrecy, it is not possible to tell something additional about this tank. Although a year has passed since the first screening, no new information about it has appeared. It is still unknown whether the tank is mass-produced or whether several samples were collected for demonstrations at parades, as is done in modern Ukraine.