When the country is ashamed. Farce performed by the authorities
Yes, now let's talk about the farce and humiliation of many things. Judging by how the events took place in the Moscow metro, it's time to think about where our country is heading. And she rolls somewhere in a not very good place, ships all over. And in fact, it reminds me very much of the very Europeans that we love to criticize so much.
But let's go in order.
1. The problem of Dagestan "heroes"
This problem has existed since Soviet times, and it is not only Dagestan. This applies to all southern republics. It is from there that a stream of such organisms comes, slowly and surely turning Moscow into Maskvabad. Who are frankly not educated, cultureless and just boors without the slightest idea of ​​what honor is. For whom the three of them pounce on one - this is a completely normal act.
Generally Moscow
story
with my fellow countryman Roman Kovalev showed many interesting moments. Over which we even need to think, not for us, but for those who are sitting in the Kremlin and the White House. This is their headache.
In fact: three organisms (well, I don't dare to designate them otherwise) come to Moscow, there they begin to be rude to women in the subway, using foul language, and then rush to beat the only man in the carriage, who decided that this muck must be stopped.
Then three of these cowards rush to run, one tries to portray something with a knife, the second sprays a teardrop from a spray can at the police. And, by the way, the father of this "hero", if you believe Steshin (why not believe him?), Who published everything on his Telegram channel, does not see anything like that in the fact that his child splashed from a can "in red".
The Russian policeman is "red". And what are these? Greens? We passed, we passed. In the very "Republic of Ichkeria". There were also "greens" who drank a lot of the red blood of the Russians.
Everyone frightens us with this very article 282. In Russia, it turns out strangely, if a boor of any nationality behaves as he pleases, then these are "national traditions". And if a Russian tries to express his displeasure, then he immediately gets an article "for inciting." The results of such a policy will be a little lower, but for now - I'll take a chance. The foreign agents will not be sent further anyway.
So gentlemen, deputies, the FSB, the Ministry of Internal Affairs, the RG and others - isn't it time to think about what is happening in Russia? Or does everything suit you? Are you satisfied that such scoundrels inspired by correct upbringing come to the country and behave like that?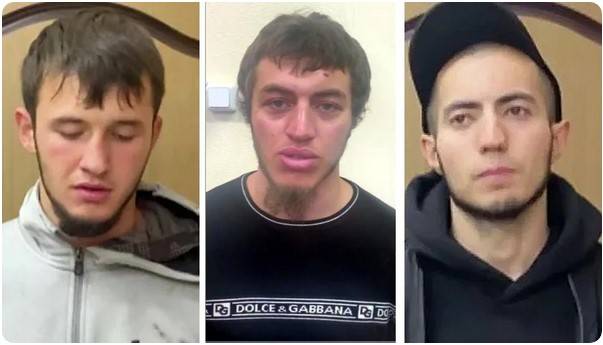 Moreover, having excellent relations with representatives of many peoples inhabiting Dagestan, I perfectly imagine that if these three scoundrels dared to portray something like that in Makhachkala or Grozny, they would have been killed on the bus. And they would be finished off by domestic ones, who would have brought the carcasses of these freaks, because it would be a shame for the whole village.
And in Russia it is possible. Russia is a different country, you can behave there ... And how do they behave? As "masters of life." And it just needs to be stopped.
Unfortunately, the Kremlin does not see anything like that in the incident. Press Secretary of the Russian President Dmitry Peskov said that what happened is not a reason to talk about interethnic tensions:
"We are talking about scum, about hooligans, no matter what nationality they are. It is very gratifying that they were quickly detained, that now all the necessary procedural actions in relation to them, the investigation will be carried out. "
I agree with Peskov. There is no interethnic tension, it is the newcomers who strain Russian cities.
Something has become a lot of cases involving "hooligans and scum" from the south. The nuts are clearly loose. All these public demonstrations, especially with shooting, all these "national traditions" should be driven back to where they really are traditions. And in Russia they (traditions) have nothing to do. As well as such "gifts" from the "greens" from the south of our country.
And this is not incitement to ethnic conflicts. Judging by what is being said aloud, this very nationalism exists and is successfully cultivated by people from those very southern republics. Especially their younger generation, like this, with thin beards, who seriously believe that the rest of Russia is something like a shopping and entertainment center.
I really hope that the parents of these repeat offenders (two have articles for theft, the third for causing moderate harm) will not have enough money to hush up the case and Khanmagomedov (especially him), Musalaev and Zalibekov will go to places of imprisonment for a long time.
By the way, this does not absolve the villains from paying for Kovalev's treatment and all kinds of compensation.
2. The problem of real men
Here, of course, just longing and sadness. It is very hard to believe that Kovalev was the only man in the subway car. No, that was how he turned out to be the only one, plus a woman turned out to be a man who was not afraid to press the panic button and then show the police to the criminals.
More precisely, it is hard to believe that Roman was alone in the car. I'll get better again, there must have been organisms showing secondary male sex characteristics. But those who did not dare to act in accordance with the primary ones. Still, the primary ones are not the genitals and not the beards. These are concepts of honor, conscience and dignity.
It so happened that Kovalev was alone. It is sad. This is reminiscent of European countries where (as the German examples have already shown) no one will care deeply about any of your problems.
Costs of Democracy ...
In general, it is a disgrace for the entire nation. And for Dagestan, where such criminals, jackals were raised, and for the rapidly degrading morally degrading population of Russia. Not a single nightmare would have dreamed that in the subway car where this crime took place, the maximum that the passengers were able to do was to film everything on their phones. From which, by the way, it would be more correct to call the police. Even so.
Are we getting smaller, gentlemen and comrades? Yes, we are smaller.
3. The problem of the authorities
But what our authorities are doing just already translates the situation into the category of a complete farce.
The only thing in whose address I would like to say a couple of warm words is in the direction of the police officers. They arrived promptly, worked well, neutralized, detained, delivered. Worthy of gratitude, worthy of praise. When police officers work as they should and above that - why not mention?
Then the "development of the situation" began. And then, for some reason, the authorities began to do something out of the ordinary. Some strange movements began and the creation of a national hero from Kovalev.
Bastrykin says that the Investigative Committee will award Kovalev and the woman who called the police with her departmental medals. Good. Has the right to.
The Voronezh regional government also said that it would reward Kovalev on behalf of the governor and assist in rehabilitation. Good. Quite.
Moscow Mayor Sobyanin ordered to give Kovalev 2 million rubles. I also decided to become good.
Now, if Sobyanin gave money out of his pocket, it would be commendable. But the fact that he manages the budget in this way is very strange. Being good at someone else's expense is very beneficial for your wallet. And at the expense of the budget ...
For some reason, volunteers immediately came to my mind, who at their own expense and in their cars take doctors to patients. The state does not have the money for this, there is not enough ambulances, there is not enough of everything. Therefore, people take upon themselves the affairs that the state MUST do.
An interesting situation: the volunteers do not have money for gasoline, but it is easy for Sobyanin to show off in front of the cameras as a benefactor.
I am not at all opposed to Kovalev being awarded and celebrated. But: why two million? Not five? Not ten? Not an apartment in Moscow City? Somehow all this does not look very clear.
Farther. The Liberal Democratic Party of the Voronezh region dumped the initiative that Kovalev should be made an honorary citizen of the Voronezh region.
This, excuse me, is already some kind of bacchanalia.
If you read the statute of this title, it says that
"The title of Honorary Citizen of the Voronezh Region is awarded for special merits in public and state activities, an outstanding contribution to the development of science, culture, production, other activities that contribute to the comprehensive development of the Voronezh Region and the Russian Federation, the growth of the population's well-being, increase the popularity and authority of the region in Russia and abroad.

The title of Honorary Citizen of the Voronezh Region can be awarded to soldiers of the army and fleet, law enforcement officers who have shown courage and heroism in the performance of their official duty. "
But in general, of course, after the 20-year-old athlete became an honorary citizen of Voronezh this year, what are we talking about?
Then the question arises: why waste time on trifles, gentlemen? Why is Kovalev not drawn to the Hero of Russia? We are also awarded this award in a very peculiar way.
Well, for less significant feats there are medals of the order and the Order of Merit itself. True, it is more for singers and rappers, but is it not an option?
Why, excuse me, are people who rushed to get passengers out of an exploded bus worse than a singer or a loser minister? Yes, they are better, they really saved people. They did not try, but saved.
It's generally interesting in our country. "I wanted to save, but I didn't save" - Hero of Russia. Spas, but "not in the cage" - and so you will live. With the knowledge that you are human.
So in the wake of all this madness, the idea is quite good for itself. The way the authorities rushed at Kovalev makes it possible to come up with something different.
In general, doing good and right deeds is beautiful and worthy of a person and a citizen in the best sense of the word. But to promote the story of Kovalev in this way is overkill in all respects. I understand that he is a very good and decent guy, and it will not spoil him. But what is going on around Roman itself, I cannot call it anything other than a farce.
Glory to the circumstances, in Russia there are thousands of no less worthy people who help the sick and disabled, children, animals, resist scum, help save people in accidents and disasters, look for soldiers of that war, and so on ad infinitum.
And for the most part, these people do their business not for awards and money. Namely, because they are People with a capital letter. And how are they worse?
Heroes in our country have always been able to make. Especially in difficult times. Today's times cannot be called simple, but this is absolutely no reason for such "operations" to create heroes. Our authorities have a problem: there are few good ideas and even fewer methods for their implementation. And this, unfortunately, is sad.
The fact that the authorities are dancing around Roman Kovalev will definitely not bring a positive result. Those who have conscience and honor, they will act according to their principles, completely oblivious to money and rewards. And whoever doesn't have them - so you can't force them to do something like that for money. And they will get rewards for themselves if they wish and without moral and physical efforts. To do this, you need to have money and a few connections.
Not the most beautiful layout. Especially if you really understand that not every worthy person will receive two million. And it's not even worth talking about awards, here in general "let this cup pass me by ...".