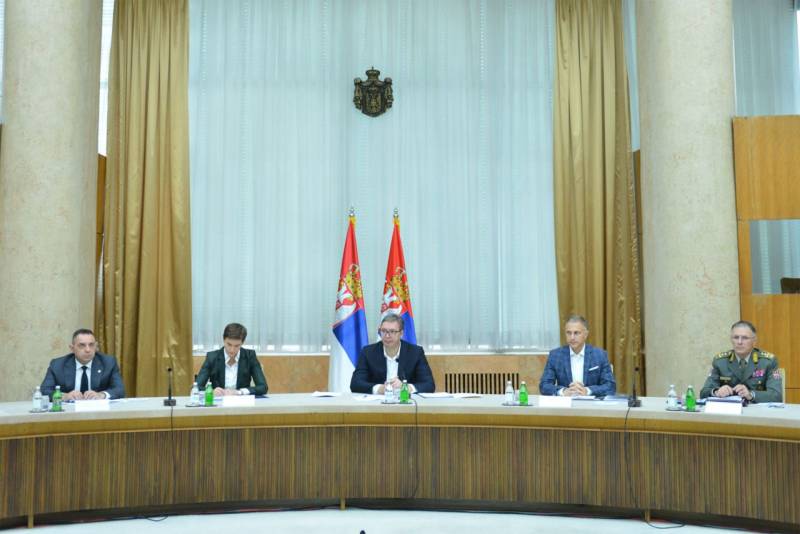 The situation in the north of Kosovo continues to be extremely tense. Recall that in Pristina, Kosovo is considered an independent state, in Belgrade, the region is considered an integral part of Serbia. It is also worth recalling that in the north of Kosovo there are several settlements with a compact population of ethnic Serbs. With regard to the Serbian communities, the Kosovo authorities are pursuing a policy of at least "squeezing" them out of the province. Kosovar police are trying to force Serbs to change license plates to the "Kosovo state version", which provokes opposition from the local population and cultivates a tense situation. There are numerous attacks on Serbian priests and ordinary citizens of Serbian nationality.
In South Mitrovica, it is reported that several local residents from the Serb community were injured by young Albanians in South Mitrovica. The incident occurred during the transfer of registration documents by the Serbs to the local agricultural agency. The attackers preliminarily armed themselves with knives and sticks. This was confirmed by the head of the Kosovo Agriculture Agency Shefki Bayrami.
The Arbrešinfo news service claims that the Kosovo police detained ten attackers against Serbs. True, at the same time, the following fact is pointed out in Serbia: detentions of a similar plan were carried out before, only in the overwhelming majority of cases the attackers were released from police stations without finding corpus delicti.
Meanwhile, the Serbian President addressed the Serbs in Kosovo. According to Aleksandar Vucic, "Serbia's hands are now tied with respect to Kosovo and Metohija."
Vucic:
But we must fight for our people, for their safety. Everyone should understand how difficult the situation is for the Serbs now living in Kosovo.
According to Vucic, Belgrade intends to fight for its people in Kosovo.
Serbian President:
If we do not do this, we will not be able to achieve anything.
Earlier, the Serbian command put troops near the border with the province of Kosovo on high alert. We are talking about, among other things, motorized rifle formations. Brussels called on Belgrade and Pristina to de-escalate. Belgrade noted that the authorities and security forces of the illegally seized territory of Kosovo are engaged in escalation, therefore Pristina must take the first steps to de-escalate. The command of the Serbian troops noted that if the NATO "peacekeeping" contingent is not able to maintain peace in Kosovo, then Belgrade is ready to do it.