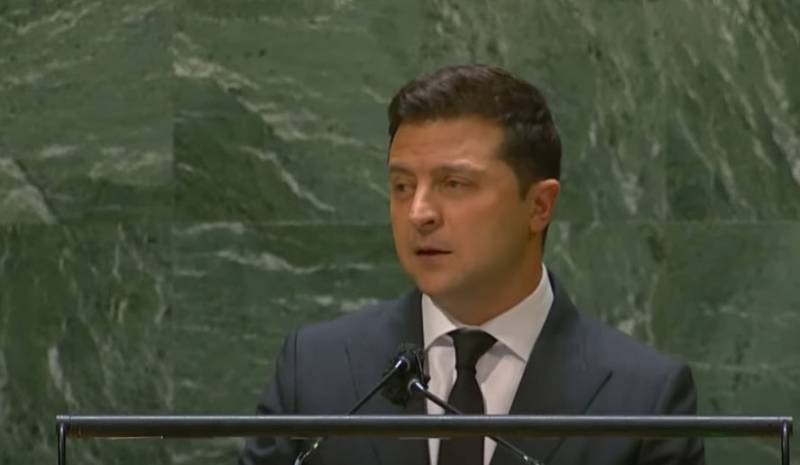 The President of Ukraine addressed the UN General Assembly. Zelenskiy criticized the organization for the fact that it more and more ceases to meet challenges and is removed from world problems.
According to the head of the Ukrainian state, the United Nations today is a "retired superhero". Zelensky said during his speech that the UN began to perceive itself as a world "burden, an old, naked and unnecessary grandfather, whose life was lived in vain."
Zelensky called on the UN to "remember something." For example, the implementation of programs to provide hundreds of millions of people with drinking water, food, medicines.
The Ukrainian president, once again grasping the thread of outright populism:
What do you say, dear leaders? Let's unite for these people. Let's strengthen our interaction, show that we can work together. Let's show that we can do this without declarations.
In Ukraine itself, these tirades of the president are commented on by experts of different levels and political preferences.
Opponents of Zelenskiy note that the president on the podium of the UN General Assembly "decided to again exploit the theme of unity, which he exploited during his election campaign." Some even suggested that Zelensky was thus "going to reserve one of the seats in the UN leadership."
Ordinary Ukrainians, after the President's speech in absentia, reminded him that first Zelensky needs to achieve unity in Ukraine, and only then declare the need for a real unification of nations in the international arena.
Some comments:
Today it is difficult to find a more divided country than Ukraine. What kind of associations of nations in the world is he talking about?
Return to Kiev and start working for your own people.
Zelenskiy has compared the UN to his old grandfather. Why naked? What kind of associations does our president have?
Vladimir Aleksandrovich Zelensky, oh, and you are a populist.